I came up with a new way to visualize the month-over-month price changes in the Case-Shiller Home Price Index for all twenty cities they track, which I posted over on the Redfin Seattle blog on Tuesday. I rather liked the simplicity of this new visualization, so I decided to clean it up a bit more and post another version here: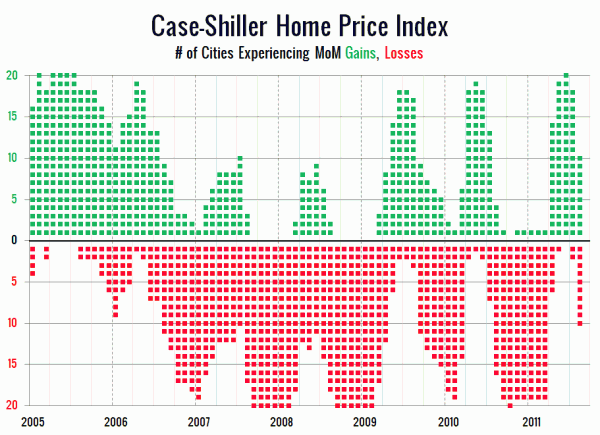 I've left out 2000 through 2004 on this chart, since those years all look pretty much the same as 2005, but you can view a full chart of 2000 through August 2011 here. In the more "normal" years before the bubble started to bust, most cities stayed month-over-month positive through the fall.
Ordinarily, the number of cities in negative territory doesn't start to pile up until November or December. This year we went from just two cities negative in July to ten in August, which to me indicates that the market is still quite weak, and definitely not in any sort of "recovery" mode.
Rate this post:

0

0