Here's your December update on Foreclosure activity in King, Snohomish, and Pierce counties. First up, the Notice of Trustee Sale summary:
December 2008
King: 660 NTS, up 105% YOY
Snohomish: 296 NTS, up 67% YOY
Pierce: 578 NTS, up 79% YOY
The graphs below are derived from monthly Notice of Trustee Sale counts gathered at King, Snohomish, and Pierce County records. For a longer-term picture of King County foreclosures back to 1979, refer to this post.
For the full legal definition of what a Notice of Trustee Sale is and how it fits into the foreclosure process, check out RCW 61.24.040. The short version is that it is the notice sent to delinquent borrowers that their home will be repossessed in 90 days.
First let's look at the percentage of households that received a Notice of Trustee Sale (based on household data for each county from the American Community Survey, assuming linear household growth between surveys):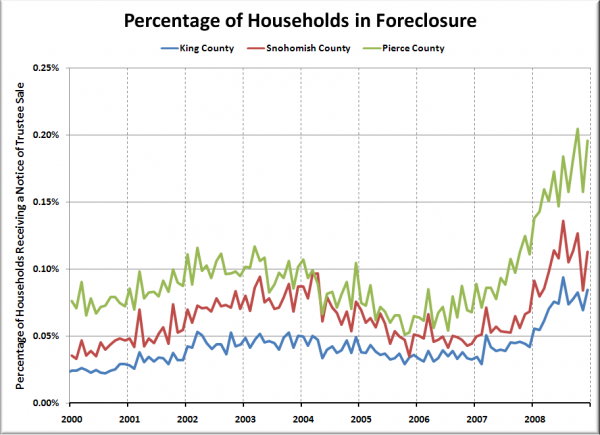 King County came in at 1 NTS per 1,182 households, Snohomish County had 1 NTS per 884 households, and Pierce had 1 NTS for every 511 households.
For comparison, the latest data from RealtyTrac—whose definition of foreclosure includes Notice of Default, Auction, Notice of Trustee Sale, and Real Estate Owned—shows King County with 1 foreclosure for every 938 housing units, Snohomish at 1 foreclosure for every 916 housing units, and Pierce with 1 foreclosure for every 465 housing units.
Following are charts of King, Pierce, and Snohomish County foreclosures from January 2000 through October 2008, with uniform y-axis scales to provide easier comparison. Click below to continue…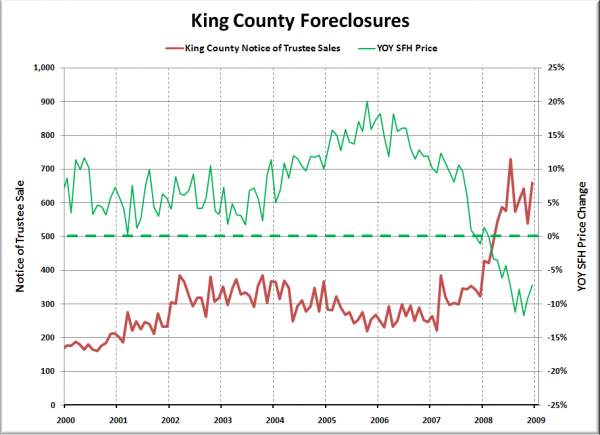 Foreclosures shot back up again in King County in December, reaching their second-highest level ever, still short of July's level of 730.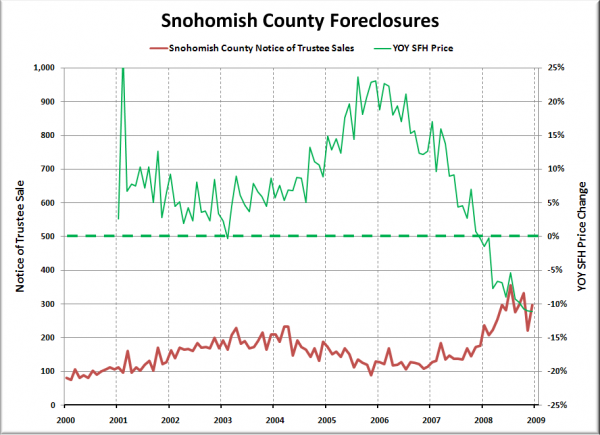 Snohomish County was also up from November, but still short of a new record.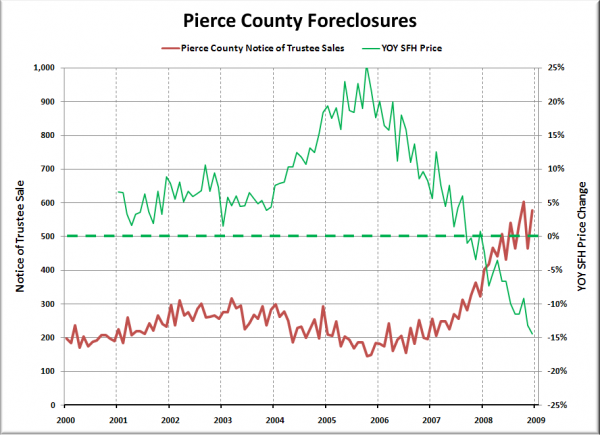 Pierce County came in at their second-higest ever, falling short of the high mark set in October.
Coverage elsewhere:
Seattle Times: Foreclosure numbers for Puget Sound region climbing faster
Seattle P-I: County foreclosures up 88%