The following is another blatantly-copied press release for community event #2 put together by the No News is Bad News group that I am loosely affiliated with. Tomorrow's event will be more future-focused, looking primarily at how to make online journalism a financially sustainable venture.
Given that this site is essentially a form of online journalism, I thought the event might be of interest to you. You may download the event flyer here (pdf), and spread the news to anyone you know that is interested in the future of journalism in Seattle (and elsewhere).
---
Making It Work: Journalism and Our Flying Car Future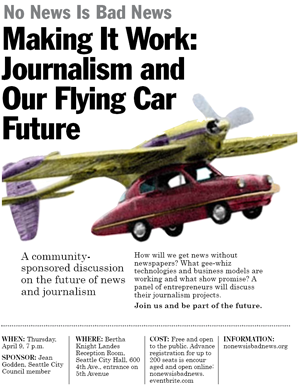 The community-driven group No News is Bad News is sponsoring a discussing the future of journalism from 7-9pm Thursday night (April 9).
Following up on its first community event in February, No News is Bad News now turns the focus to what business models are working or show promise to support journalism in a post-newspaper framework. We've gathered a panel of Seattle innovators who will talk about their experiences in finding and filling news niches, gaining relevance with readers, and showing advertisers the power of local.
The event is free and open to everyone. Free registration is encouraged.
No News is Bad News will feature a panel of speakers, but the focus of the event is on listening to feedback from the community. Attendees should arrive expecting to be part of a discussion where they can share their concerns and comments. Following the event, a summary of the proceedings will be published online and shared with the community.
The panel will be moderated by Cory Bergman, MSNBC, an expert on the future of local media through LostRemote.com and MyBallard.com. Other panelists will include Tracy Record of West Seattle Blog, Robert Khoo of Penny Arcade, Mike Davidson of Newsvine, Scott Durham of Central District News, Rita Hibbard of InvestigationsWest, and Kery Murakami of the Seattle Bulldog.
WHAT: "No News is Bad News — Making It Work: Journalism and Our Flying Car Future," a free, community-sponsored town hall discussion on current and near-term models for journalism success in a post-newspaper framework.
WHEN: Thursday, April 9, 2009, 7 p.m.
WHERE: Bertha Knight Landes Reception Room, Seattle City Hall, 600 4th Ave., entrance on 5th Avenue, downtown Seattle.
For more information about the event, visit http://nonewsisbadnews.org/, or contact Dylan Wilbanks at wnalyd@gmail.com.