The Associated press published an interesting interactive map recently that is worth checking out. They took a handful of economic measures such as the unemployment rate, the foreclosure rate, and the bankruptcy rate, and calculated an "Economic Stress Index" for every county in the country.
Here's a snapshot of their March 2009 map (click to head to the AP's interactive version):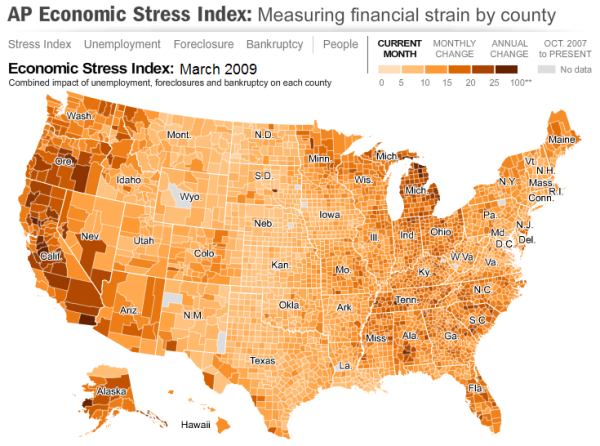 The Seattle area comes in better than much of the West Coast and the South, worse than much of the Midwest, and about on par with the Northeast.
Meanwhile, the Seattle Times surprisingly reprinted a Bloomberg piece this weekend titled Home prices may be lost for a generation:
We might be looking at a lost generation for U.S. home values.

Far too many analysts are calling a bottom to the housing market after home prices in 20 metropolitan areas declined at a slower pace, according to the recent Standard & Poor's/Case-Shiller index.

Don't be blinded by the glint of optimism in headlines about rising consumer confidence and slowing price declines. Demographic and market realities tell a more sobering story.
There definitely appears to be the beginnings of a mental shift going on in the country right now. Are we finally ridding ourselves of the notion that we—individuals, corporations, and governments—can live lifestyles beyond our means with no consequences? One can only hope.