Quick note on the potential impact of a long-term departure of Boeing from the Puget Sound.
The Seattle-area economy is definitely more diverse than it was in the '70s, but Boeing still dominates the employment base by the numbers.
A 2003 table from the Greater Seattle Chamber of Commerce shows Boeing employing more people than the next six-largest Puget Sound companies combined (Port of Seattle, Alaska Air, Microsoft, UW, Safeway, and the VA).
Here's a crude visual of the size of Puget Sound's top 10 employers based on the Chamber's 2003 data linked above: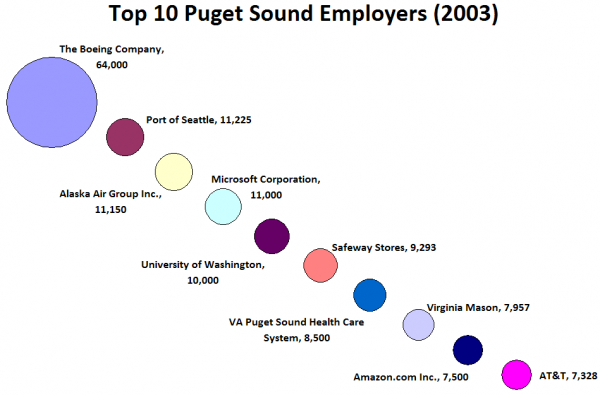 Here is some more recent data on Boeing, Microsoft, and Amazon (which was listed by the Chamber of Commerce as the 9th-largest local employer as of 2003).
Total Puget Sound Jobs
Boeing: 73,357 (46% of total headcount)
Microsoft: 40,224 (44% of total headcount)
Amazon: 10,850 (assuming 50% of total headcount)
And keep in mind that the numbers listed above are only those directly employed by Boeing itself. Many thousands more local jobs are directly tied to Boeing in companies that supply Boeing with parts and services.
In short, there's clearly a lot at stake for the local economy (and by extension the local housing market) when it comes to Boeing's long-term plans.