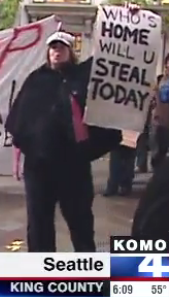 Spotted the sign pictured at right in a KOMO News story about Occupy Seattle protesters disrupting the weekly courthouse steps foreclosure auction on Saturday at the King County Courthouse.
I'll let the sign speak for itself, but I will say that I really don't understand the connection these protesters appear to be making. Other signs at the protest:
"STOP ROBBIN' OUR HOODS!"
"STOP ILLEGAL FORECLOSURES"
"NO MORE Foreclosures in OUR WA!"
"BANKERS LIED, ECONOMY DIED"
"Fund the needy, Not the greedy"
"BANKS TERRORISTS WORSE THAN AL QAEDA"
"HOMELAND SECURITY NEEDS TO DEFEND MY HOME"
How are foreclosures equivalent to corporate greed, theft, and terrorism?