It's been almost two years since we first looked at Google's Real Estate Index, and I thought it was past time for another visit to this particular data set.
To save you the time it would take to re-visit the old post, here's Google's description of what they're doing:
The Google Real Estate Index tracks queries related to "real estate, mortgage, rent, apartments" and so forth.
In order to limit the data to the United States only, I went to the more-detailed data set at Google Insights for Search. Here's what it looks like when you plot Google's real estate search activity (12-month rolling average) next to Case-Shiller's 20-city composite index, with both indices re-indexed to January 2005 = 100: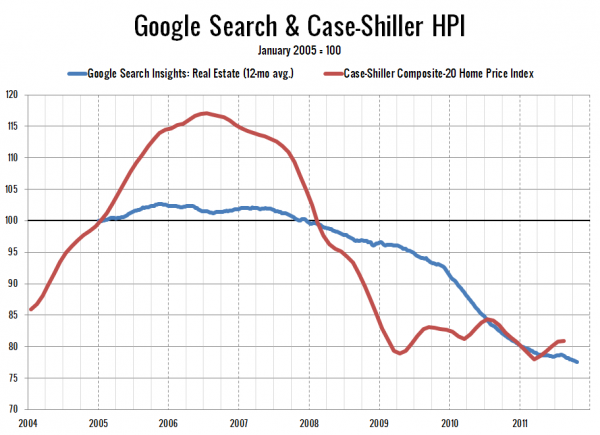 Home prices haven't tracked search activity all that closely in magnitude, but the direction of the two seems to move together fairly nicely. I think it's interesting to note that search interest in real estate still apparently hasn't bottomed.
Just another data point that seems to indicate that we haven't seen the bottom yet…
Data Sources: