Let's check in again on the cheapest homes around Seattle proper. Here's our methodology: I search the listings for the cheapest homes currently on the market, excluding short sales, in the city of Seattle proper. Any properties that are in obvious states of extreme disrepair based on listing photos and descriptions will be excluded. This includes any listing that uses the phrases "fixer," "rehab loan," or "value in land." I post the top (bottom) three, along with some overall stats on the low end of the market.
Please note: These posts should not be construed to be an advertisement or endorsement of any specific home for sale. We are merely taking a brief snapshot of the market at a given time. Also, just because a home makes it onto the "cheapest" list, that does not indicate that it is a good value.
Here are this month's three cheapest single-family homes in the city limits of Seattle (according to Redfin):
These are some of the most expensive "cheapest homes" I've seen in Seattle since I started this series. Especially the price per square foot on those first two—yikes!
Stats snapshot for Seattle Single-Family Homes Under $200,000 (excluding short sales)
Total on market: 23
Average number of beds: 2.4
Average number of baths: 1.3
Average square footage: 1,260
Average days on market: 82
Inventory fell to a new low since I began tracking this data in April 2010. Beds, baths, and square footage are all relatively flat, while days on market was up from February but down from January.
Here are a couple of charts to give you a visual of the trend of these numbers since I adjusted the methodology in April 2010: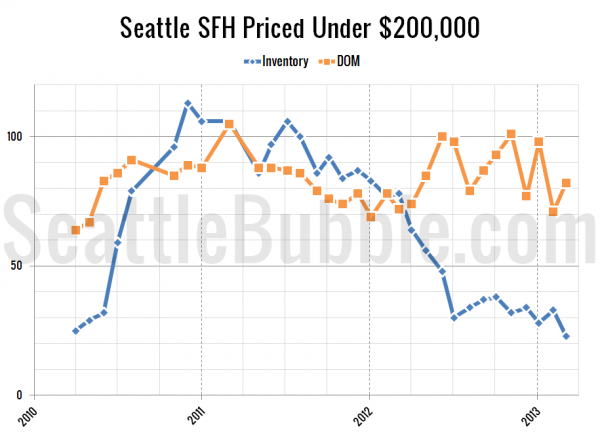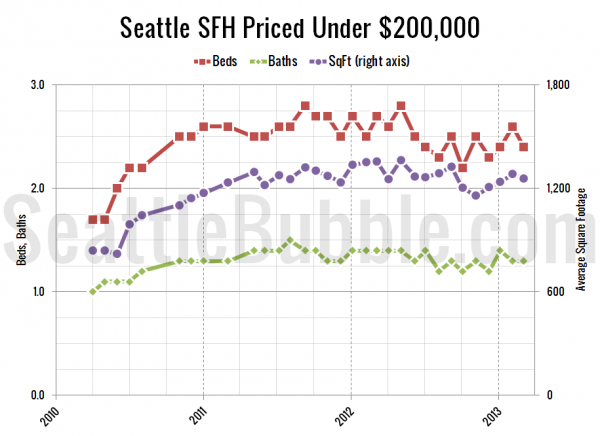 Here are cheapest homes in Seattle that actually sold in the last month, regardless of condition (since most off-market homes don't have much info available on their condition).