It's time once again for the monthly reporting roundup, where you can read my wry commentary about the news instead of subjecting yourself to boring rehashes of the NWMLS press release (or in addition to, if that's what floats your boat).
To kick things off, here's an excerpt from the NWMLS press release:
Home sales "pause" with government shutdown, but brokers mostly bullish on market recovery

Home sales "paused" during October but prices continued to rise, according to the latest statistics from Northwest Multiple Listing Service. Commenting on year-to-date totals for 2013 compared to 2012, one industry expert remarked, "I would say the real estate market is recovering nicely."

Pending sales during October dipped 2.7 percent when compared to the same month a year ago, but rose nearly 3.2 percent from September's volume. October's decline was the first negative change in year-over-year comparisons since April 2011. (That drop-off was attributed in part to a frenzy during April 2010 when buyers were scrambling to take advantage of a federal tax credit that was expiring.)

Brokers point to the federal shutdown during the first two weeks of October, below-normal inventory, and shaken consumer confidence as factors in the slowdown.
So, in the first month of positive year-over-year inventory in nearly three years it is "below-normal inventory" that caused a sudden slowdown in pending sales. Right. Here's what the year-over-year trend in pending sales has looked like since January 2012: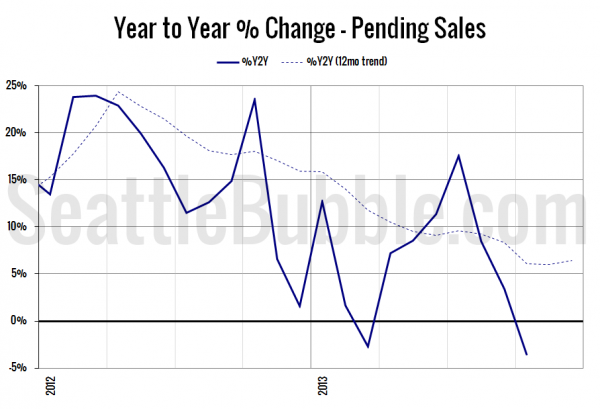 The year-over-year change in pending sales has been trending down sharply since July, and has been on an overall downward trend since early last year. But why look at obvious trends when you can blame the political 3-ring circus in Washington DC?
Read on for my take on this month's local news reports.
Sanjay Bhatt, Seattle Times: King County median home price up 15% over year ago
While extremely tight inventory drove bidding wars in spring, October was the first time this year that inventory of single-family homes was higher than a year earlier.
…
Pending sales slipped to 2,579, down almost 4 percent from a year earlier, perhaps related to the federal government's partial shutdown from Oct. 1-16.

Pending sales are where the shutdown's impact would have shown up, but it's hard to tease that out from other possible causes, said Glenn Crellin, associate director of research at the Runstad Center for Real Estate Studies at the University of Washington.

"I'm very encouraged by the fact that listings are increasing gradually," he said.
The trend in October was
Aubrey Cohen, Seattle P-I: Was home sales slowdown just a 'pause'?
The number of deals to buy King County houses fell 3.6 percent in October from a year earlier, the Northwest Multiple Listing Service reported Tuesday.

That was just a "slight pause," Mike Gain, president and CEO of Prudential Northwest Realty Associates, said in the listing service report.
…
Glenn Crellin, associate director of the Runstad Center for Real Estate Studies at the University of Washington, said the pause hypothesis is "probably right," noting that we're now comparing to months last year when sales were ramping up.
…
Looking foward, Crellin said: "I think you're going to see stabilization."
It's all Crellin, all the time in this month's reporting, apparently.
No story has appeared in the Everett Herald.
C.R. Roberts, Tacoma News Tribune: Home prices up in Pierce County in October, dip in Thurston
Residential home prices were were up in Pierce County in October, while the number of pending sales declined. Thurston County saw the opposite effect, with pending sales up and prices down, the Northwest Multiple Listing Service reported Tuesday.
…
"More inventory is still needed to meet demand," suggested Dick Beeson, principal managing broker at RE/MAX Professionals in Tacoma. Beeson is also past chairman of the Northwest MLS board of directors.
…
"It still looks like a potential housing shortage in Puget Sound come 2015 if building doesn't increase," Beeson said in an MLS release Tuesday.
A potential shortage? Because the record-low inventory we had in 2012 and early 2013 wasn't a shortage? Dick Beeson never fails to entertain.
C.R. Roberts, The Olympian: Home prices down in Thurston in October, up in Pierce County
The News Tribune and Olympian stories this month are literally the same exact story but with slightly different headlines.
(Sanjay Bhatt, Seattle Times, 11.05.2013)
(Aubrey Cohen, Seattle P-I, 11.05.2013)
(C.R. Roberts, Tacoma News Tribune, 11.05.2013)
(C.R. Roberts, The Olympian, 11.05.2013)