Here's an interesting flipping strategy that I haven't seen before…
On Monday I walked by a home 10th Ave East up on Capitol Hill. Here's what it looked like a while back, via Google Street View:
And here's what it looks like now: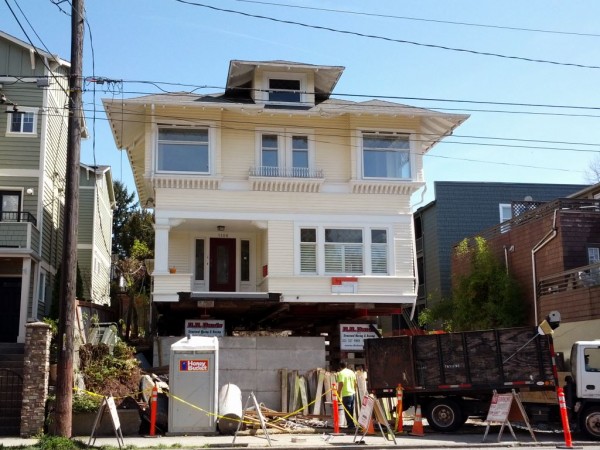 The home sold last June for $826,000. So what are the new owners up to? Here's some research by Capitol Hill Seattle:
According to permits filed for the property, the house is being lifted and moved on its lot to make room for a two-unit townhouse and attached garage that will be added to the property. It's a project involving Bradley Khouri's b9 architects.
Indeed, the permits on file with King County indicate that the home is being shifted out toward the street to make room on the 5,000 square foot lot for a new construction duplex in the back.
From the listing photos on Redfin, the 3,000 square foot, 105-year-old home looks to be in very nice condition. It will be interesting to see how much it sells for after losing its front and back yards and having new townhomes squeezed in behind it.