This bus ad was spotted by Redditor /u/moroccahamed on /r/SeattleWA: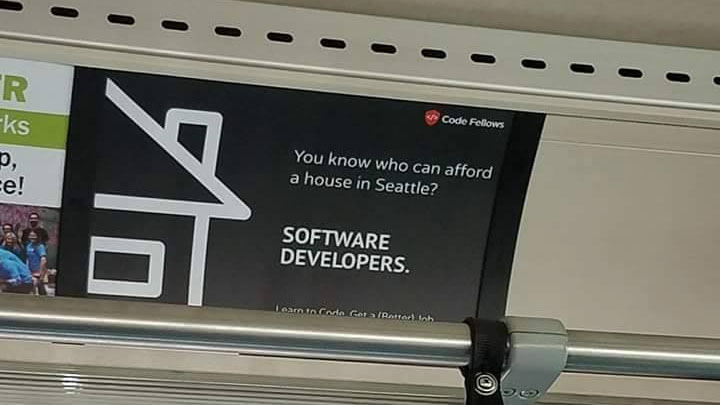 I feel like an ad with this kind of message is more likely to add to the already high level of animosity toward software developers than it is to get people to sign up for a coding academy.
Also, learning to code at a code academy isn't likely to be a magic wand that allows you to afford a home in Seattle. The median price of a house (i.e. single-family) in Seattle last month was $722,250. In order to afford a home that expensive at today's interest rates you would need to earn about $140,000. According to Code Fellows' own website (screenshot), the "average starting salary" of their customers is "$70K+," only about half of what you would need to earn to afford the median-priced home.
Even in the cheapest part of Seattle—NWMLS area 385, Central Seattle SW / Beacon Hill—the median price was $559,950. If we take a more generous salary estimate of $97,000—the average software developer salary across Seattle according to Glassdoor (screenshot)—we still come up short of the $109,000 needed to make a home in SW Seattle affordable.
According to the third-party site Course Report, about 69 percent of Code Fellows graduates earned less than $80,000 after completing their courses. Six percent of their graduates did report earning $110,000 or more, so there is at least a slim chance that you might be able to afford to buy a home in the cheapest parts of south Seattle after completing the Code Fellows courses. More likely though, you're not part of the lucky few and both you and your significant other are going to need to become software developers to afford a modest house in Seattle.
And of course that's not even considering the question of how these newly-minted software developers are going to come up with over $100,000 to make a 20 percent down payment. It might be a bit difficult after spending over $20,000 on coding courses.
While the ad may be totally tasteless, at least Code Fellows was responsive to feedback. According to GeekWire, they have already pulled the ads.