Get access to the full spreadsheets used to make the charts in this and other posts, as well as a variety of additional insider benefits by becoming a member of Seattle Bubble.
July market stats have been published by the NWMLS. Here's a quick excerpt from their press release
"We should be entering the summer doldrums, but I don't see that happening," reported Diedre Haines, principal managing broker-South Snohomish County at Coldwell Banker Bain in Lynnwood. "Inventory remains low, but prices and demand continue to increase, prompting murmurs of a looming bubble," she commented, adding, "Some say yes, and just as many are saying no" when asked about the likelihood of a bubble.
…
The leap in prices may have some people crying "housing bubble," said OB Jacobi, president of Windermere Real Estate. "I still feel confident we're not headed in that direction. Bubbles result from irresponsible lending practices, but buyers in King County have high credit scores and higher than average down payments. This area also has a high percentage of homeowners who are 'equity rich' which means their home is worth more than twice what they owe. For a housing bubble to occur we would expect to see far lower equity, down payments and credit quality."
Home salespeople have a historically good record when it comes to predicting housing bubbles, so you know you can believe what OB Jacobi says. (That was meant to be read with an extremely sarcastic tone.)
Now let's dive into the numbers for July.
Here's your King County SFH summary, with the arrows to show whether the year-over-year direction of each indicator is favorable or unfavorable news for buyers and sellers (green = favorable, red = unfavorable):
| July 2017 | Number | MOM | YOY | Buyers | Sellers |
| --- | --- | --- | --- | --- | --- |
| Active Listings | 2,898 | +11.4% | -18.5% | | |
| Closed Sales | 2,727 | -5.7% | -2.7% | | |
| SAAS (?) | 1.28 | -6.4% | -4.0% | | |
| Pending Sales | 2,950 | -13.0% | -7.8% | | |
| Months of Supply | 1.06 | +18.1% | -16.2% | | |
| Median Price* | $658,000 | +0.8% | +18.6% | | |
Prices keep climbing as listings are still scarce. What more is there to say? So far this year we haven't seen any movement in the trends that point to some kind of change coming soon in the market.
Here's your closed sales yearly comparison chart: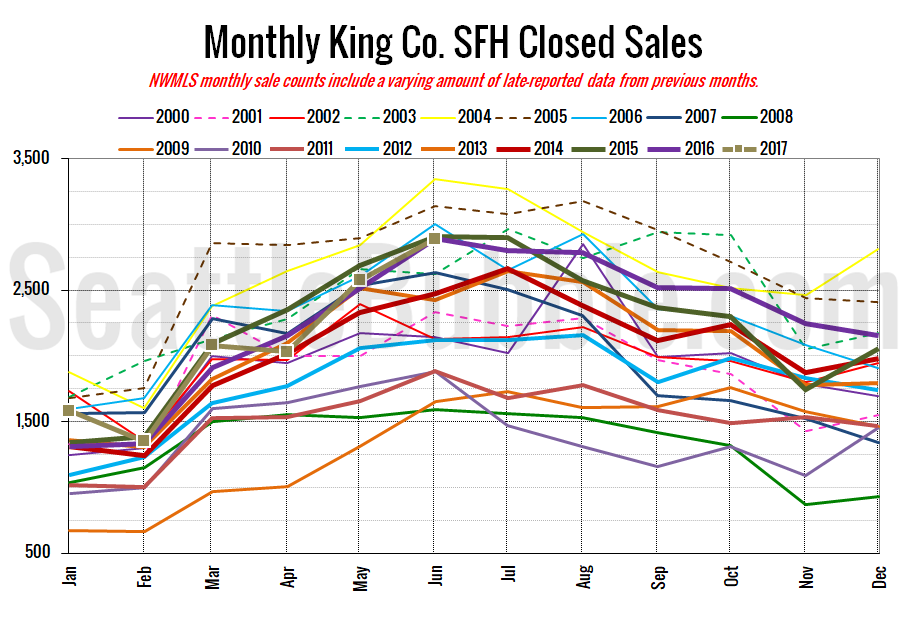 Closed sales fell six percent between June and July. Last year over the same period closed sales decreased three percent. Year-over-year closed sales were down three percent.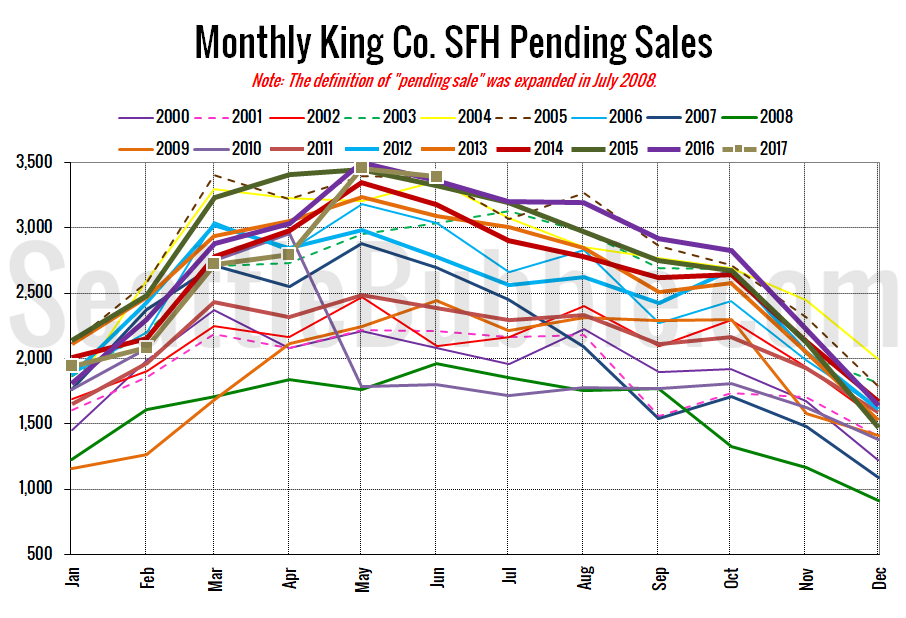 Pending sales fell thirteen percent from June to July, and were down eight percent year-over-year.
Here's the graph of inventory with each year overlaid on the same chart.
Inventory rose 11 percent from June to July. Unfortunately for buyers, year-over-year inventory was still down 18 percent.
Here's the chart of new listings: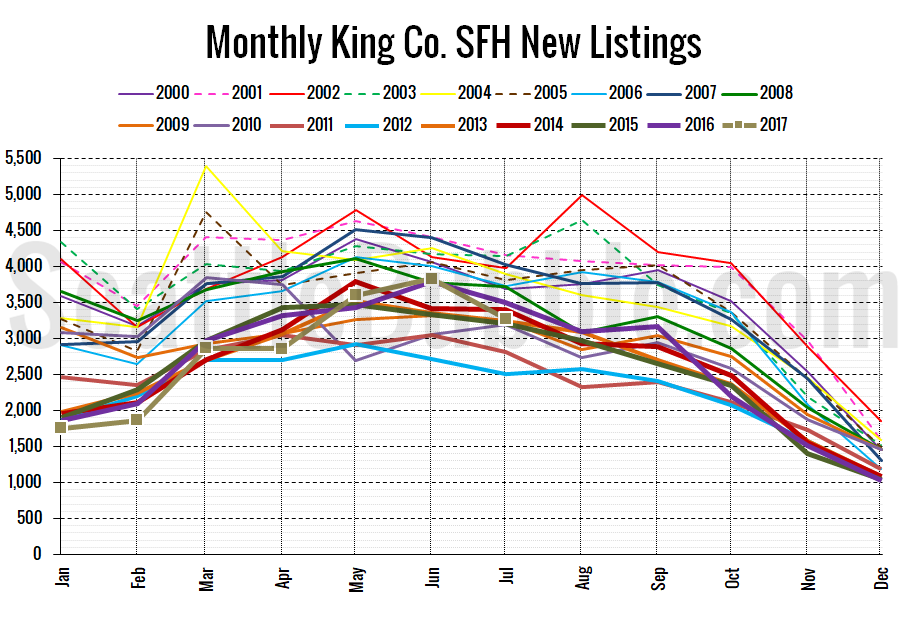 New listings were down fifteen percent month-over-month, and down seven percent from last year.
Here's the supply/demand YOY graph. "Demand" in this chart is represented by closed sales, which have had a consistent definition throughout the decade (unlike pending sales from NWMLS).
No real change here. Supply and demand is still very much trending in sellers' favor.
Here's the median home price YOY change graph: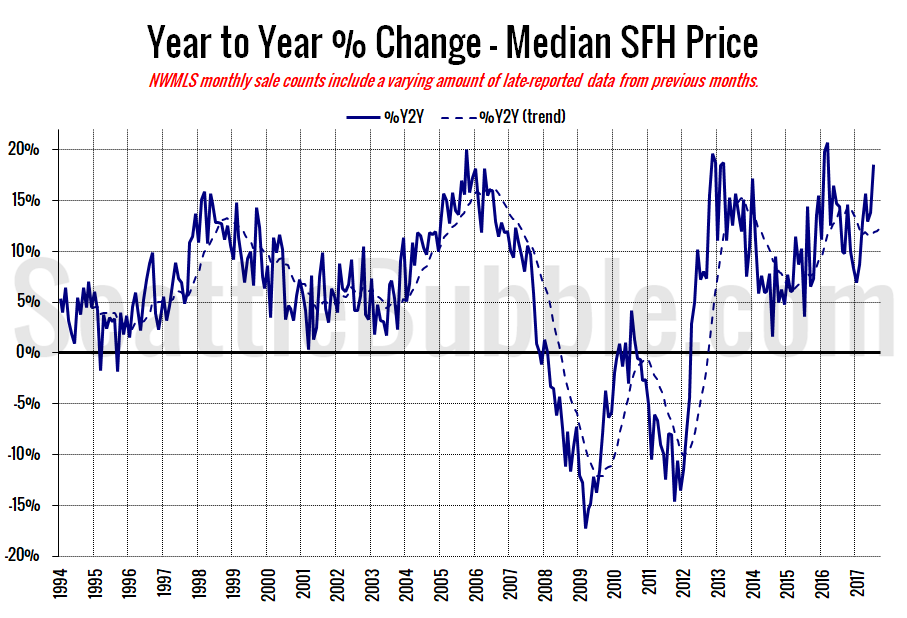 July saw the highest year-over-year price increase since March 2016.
And lastly, here is the chart comparing King County SFH prices each month for every year back to 1994 (not adjusted for inflation).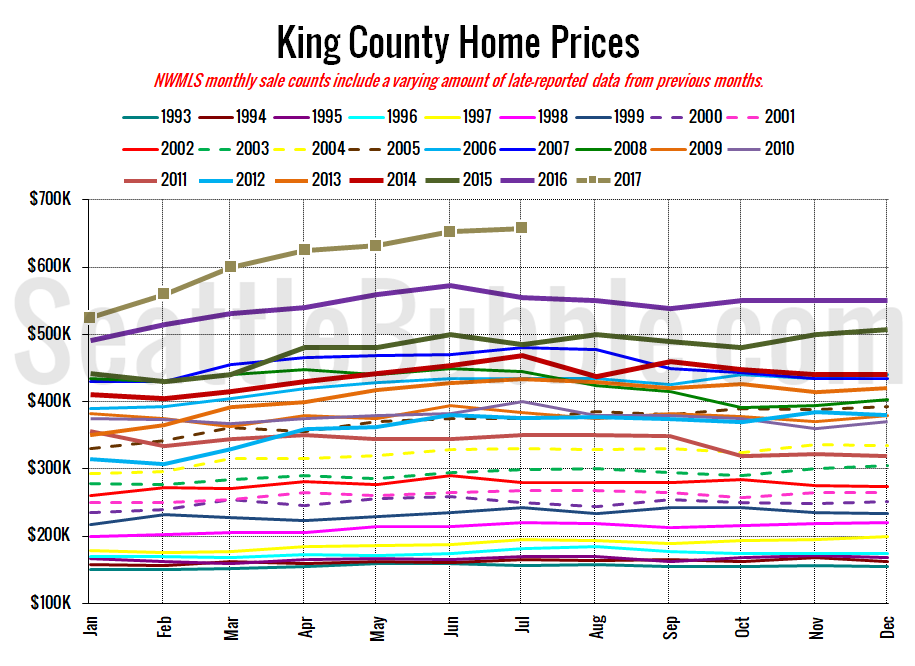 Yet another new all-time record high.
July 2017: $658,000
July 2007: $481,000 (previous cycle high)
Here's the article from the Seattle Times: King County home prices grow $100,000 in a year for first time; West Bellevue jumps 41 percent