I was browsing Google News this morning and came across the headline combo you see below: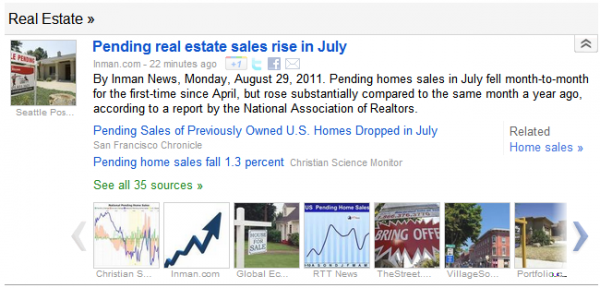 What a perfect example of the problem with most real estate reporting. Same data, polar opposite headlines. Reporters telling the story they want to tell, regardless of what is actually going on in the market.
So did pending sales "rise substantially," as claimed by Inman News, or did they "drop" as claimed in the San Francisco Chronicle's headline sound bite?
As readers of these pages likely already know, they were down month-over-month and up year-over-year, but the critical piece of context to that YOY rise is that in July of last year pending sales were in the midst of the major post-tax-credit hangover. Of course you won't find any mention of this fact in the Inman story that trumpets the "substantial" rise.
The worst part is that most people's perception of what's happening in the housing market comes exclusively from shoddy reporting like this.