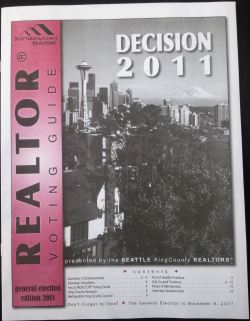 A friend of mine that happens to be a member of the National Ass. of REALTORS® shared this gem with me. It's the Seattle / King County REALTORS® 2011 Voting Guide.
Clearly designed to look and feel just like the official voter's guides (same paper stock, same layout styles), this local REALTOR® publication contains a list of every REALTOR®-endorsed candidate for offices in King County and the various cities in the county.
You might think that you would get to see both candidates for each office, read a little about each one, and learn the justification for why one candidate earned the REALTOR® endorsement over the other. You would be wrong. Instead, all you get is the name, photo, and a brief pro-REALTOR® statement from each endorsed candidate, and that's it.
Why are the REALTORS® endorsing Jane Hague over Richard E. Mitchell for King County Council in District 6? Who knows! All the REALTOR® Voting Guide tells us is that Jane is "proud to have received the early endorsement of the SEATTLE KingCounty REALTORS®." Wow, that is really useful information.
The guide does have the questionnaire pictured below on the last page, which they explain that they gave to candidates to determine a "rating" that a handful of the candidates in the booklet have been given. Apparently the most pressing political issue to local REALTORS® (judging by the length of each question) is the restriction of Open House Signs (question 6).
Gotta protect that precious open house traffic, after all.