There have been a few stories in the Seattle Times recently about the rapid rise of local rents:
August 24: Soaring rents force lifestyle changes
September 23: Local apartment rents continue climbing
So I thought it would be a good time to take a look at how rents are comparing to home prices, since they have both been on a tear this year.
Here's a look at both series back through 1990, indexed to January 2000: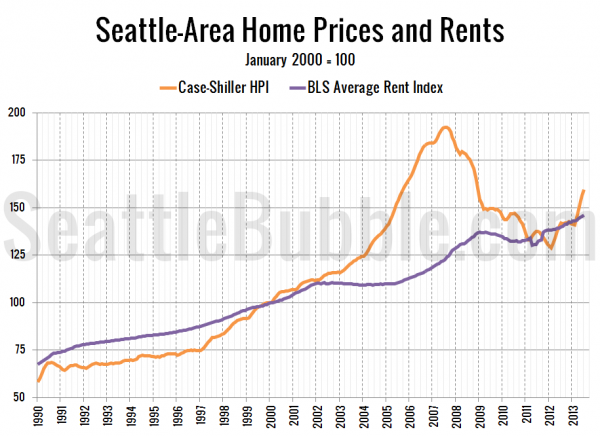 Rents have been rising relatively quickly this year, but nowhere near as fast as they were climbing during 2007, when year-over-year increases hit over 8%. The latest data from the Bureau of Labor Statistics puts the Seattle area's rent increases at 5%. Meanwhile, home prices (as measured by Case-Shiller) are up 12.5% over the same period.
While home prices and rents began 2013 roughly in balance, since March home prices have been rising much faster than rents. Here's a look at the price to rent ratio: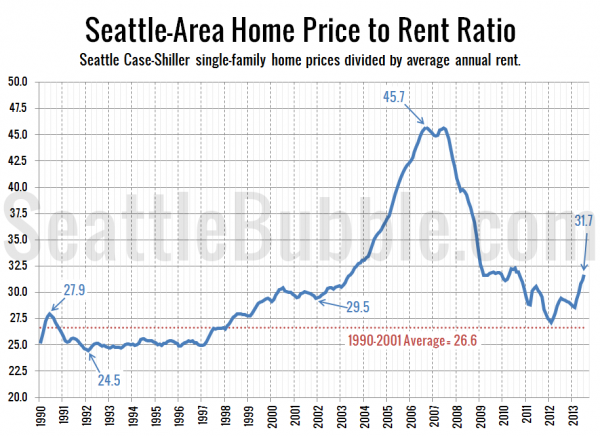 Anywhere in the 25 to 30 range is fairly normal for the Seattle area. Since May the ratio has been over thirty, which suggests that in the near future we will see either an intensified climb in rents, a slight decrease in home prices, or most likely some combination of the two.