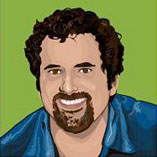 In the months since the unexplained disappearance of the Tales of a Seattle Real Estate Investor blog, and the complete radio silence of its author Seattle Eric, many have wondered what ever happened to the one-time Rain City Guide contributor. Since he was arguably Seattle's most public real estate flipper, openly discussing the ups and downs of his wild ride on the equity spaceship, it was rather strange for him to just up and disappear like he did.
Well, it would seem that my most recent mention of him was finally enough to bring him out of the shadows. Eric emailed me shortly after that post, and gave me the rest of the story. Here it is in his own words, reprinted with permission (with identifying details removed and with silly doctored versions of his avatar added for amusing effect).
---
After a couple of successful flips in the first half of last year, I quit my job (partially to do real estate, but mostly because after nine years, I felt that I ran out of opportunities to grow) at [anonymous small tech company] where I joined as the 6th employee back in 1998. For the second half of last year, I dabbled in residential real estate sales, and put the last two flips on the market. Here's what happened:
1) I realized that I'm not a sales person, and I really didn't like the real estate agent culture. There was lots of back stabbing and lots of uneducated idiots looking for a quick buck. Hey, I admit that all of that save for being uneducated and a back stabber described me.

2) Our last two flips (if you remember, West Seattle 2 and Seaview) took six miserable months to sell, and we lost a combined $80K on them. Blah. Though we learned from those mistakes, we decided not to continue doing flips. Too much stress, and too much of a need to be detail oriented… I'm a big picture guy, not a details guy.
At a party in December, I met a former boss who's a bigwig at [anonymous large tech company]. At this point, I was over real estate (I think I had retired my blog at this point), and gave her the rundown on it (see points 1 & 2 above). She thought my skills and experience would be very useful. I applied, and started there in January.
This year, we've been selling off our rental properties in the Puget Sound. We have two left on the market, and hope to be rid of them soon. I also dropped my real estate license, and no longer have access to the MLS.
There you have it. The long and short of it. I've been away long enough to take a very objective look at our experience. After buying and holding and/or selling twelve homes in the Puget Sound, we'll have realized a net profit of around $100K. Would we have done this again? Probably not. Did this kill us on real estate investing? Nope, but I did come to realize that I don't want the stress of managing the details. Currently, we are investing in syndicates that are buying up apartment complexes (mostly in Texas). This provides cash flow (average is 10%) and an estimated appreciation of 70% over two and five years (two different projects).
Also, we still have four houses in Tulsa, which continue to be a nightmare. The property managers turned out to be downright criminals – stealing our rent money and tenants deposits. I'm working with a new PM company, trying to get traction and tenants. I've had to make $1,250 mortgage payments three times with no rental income (that's $1,250 for all four houses… real estate is cheap there). Once income is stabilized, I'll have a healthy cash flow (16%). Still, hard to do from so far away.

The biggest unexpected boon by far has been the acquisition by [anonymous big tech company] of my old company, [anonymous small tech company]. The purchase price is in the billions. Since I had a ton of stock I held onto (much of it purchased pre-IPO with option prices < 1$), we finally have the financial security that we always wanted, and was one of the reasons we got involved in real estate in the first place.
Now that I'm spending my working time learning about credit card payment fraud and click fraud as part of my new role, I don't find myself drawn to the local real estate world (i.e. blogs, news, etc.). However, having just returned from a week in Chelan, I am researching possible income producing real estate investments over there.
Regardless of position, I always enjoyed the viewpoints of those looking at the real estate world. The Tim and the bubble folks (non-pejorative) have made some keen observations and backed it with good data. On the flip side, Ardell's opinions are backed by her lengthy experience and intuition.
Both sides are probably correct in chalking up my (financially) successful experience in real estate to luck. I like this definition of luck, that fits my experience well: Luck is probability taken personally. I was in the right place at the right time, and had the dollars to weather the lengthy holding periods before selling my last two flips. When I started flipping the market was still strong, and the probability of success followed. As the market dipped in areas, my results reflected that.
All in all, a great experience.