For those of you that are interested in more lengthy reading, a new paper by Robert Shiller (as in Case-Shiller) was released this weekend: Understanding Recent Trends in House Prices and Home Ownership (pdf).
Here are a couple of money quotes:
It does not appear possible to explain the boom in terms of fundamentals such as rents or construction costs. A psychological theory, that represents the boom as taking place because of a feedback mechanism or social epidemic that encourages a view of housing as an important investment opportunity, fits the evidence better.

…

Within the United States, the current boom differs from prior booms in that it is much more of a national, rather than regional, event.
Here's a great chart that summarizes the foolishness of any argument that home prices are supported by "fundamentals":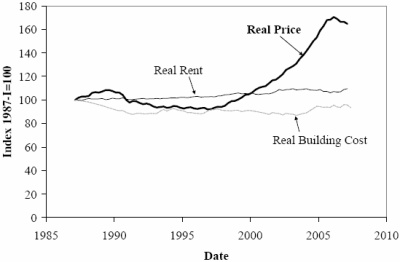 Enjoy.