Good news everyone! Although the nation is slipping into recession, here in Washington State "our economy is strong" and the only thing that can bring us down is listening to all the "dire talk." Well, that's what Mrs. Gregoire would have us believe, anyway…
Gov. Chris Gregoire, at a Seattle economic forum Thursday, boasted she has found that Washington is "literally the envy of other states."

"I ask all of us to make sure that we do not buy into, or even for that matter, listen to, the dire talk internationally and nationally, because it can become a self-fulfilling prophecy for us," Gregoire said. "We must be optimistic. We must understand our economy is strong and growth is going to continue to be the future."

The news, however, hasn't been rosy for some local employers.

Eddie Bauer has cut 123 positions, including 76 at its Bellevue headquarters. Macy's said Wednesday that it would cut 750 office workers from its Northwest headquarters in downtown Seattle. Wilcox Family Farms in Roy said it was cutting 130 jobs, while other employers in the Seattle area have made smaller job reductions.

And Seattle-based Starbucks, while not having layoffs, is reducing the number of store openings in the U.S. and is shuttering 100 underperforming stores as consumers are cutting back.

"Everything is slowing down on the back of the national economy slowing down," said Andrew Gledhill, an economist for Moody's economy.com, an analysis firm outside Philadelphia. "But it's not all doom and gloom. Everything in Washington is slowing, but you have to put it in perspective. It's not like other states like California, Nevada or Arizona."
And just think, even when things do start to get undeniably bad, we'll always be able to point to Michigan and Ohio and say "well, at least things here aren't that bad!"
It seems to me that talk like Mrs. Gregoire's "it won't happen as long as we believe hard enough" speech is really counter-productive. Shouldn't we be planning on the inevitable, and figuring out what we're going to do to get through it the best we can? Instead of wishing on a star that the housing mess and resulting recession won't ever hit us in the Evergreen State, why don't we talk about things like ways businesses can scale back operations without laying people off, or helping people shape their family budget such that they can save up some money so they're not totally screwed if they lose their job.
If we keep saying "it won't happen here," when it does we'll all be unprepared and it will hurt even worse.
(Craig Harris & Andrea James, Seattle P-I, 02.08.2008)
Update: Are we really "literally the envy of other states"? A commenter below links to an an excellent article at The Economist titled The Geography of Recession. This map is included in the story: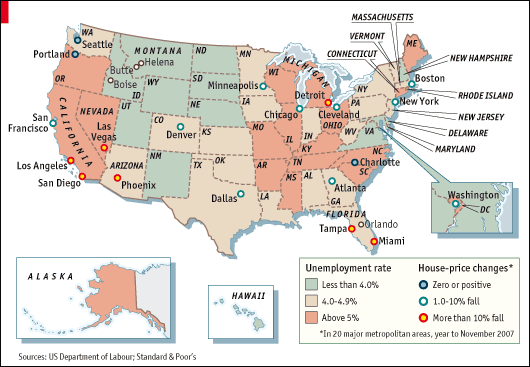 Judge for yourself whether Washington is at the top of the heap.