Yesterday's P-I had a big front-page story from Aubrey Cohen that seems to be at least partly designed to frighten renters and encourage landlords: Rent at an all-time high — if you can find a place
"There are a lot of apartments available, but the desirable ones seem to rent very quickly," said Kilbourne, a University of Washington student who must move out of his dormitory by mid-June and is about to start graduate school.

"Seems like you have to find a place within the first day of it becoming available, or it's gone."

A new report affirms that apartments are about as hard to find now as they have been any time in the past three decades and rents are on the rise.
…
"Even though rents have increased significantly over the past couple of years, there is still room for more increases because rents have not kept pace with consumer incomes," Dupre + Scott wrote. "Rents today are still 10 percent to 15 percent below what renters can afford to pay."
My main problem with these studies released by Dupre+Scott is that they only look at rental properties with 20 or more units. This totally overlooks the market that consists of individual homes and condos being rented out by individuals (as opposed to businesses or institutions). Also worth noting is that as with most real estate articles in the P-I, the graphs and most of the numbers in the article focus on Seattle proper, where rents are naturally higher and vacancy rates lower.
Aubrey does spend some time talking about what the report doesn't tell us, and exploring why things aren't shaping up as badly for renters as some were predicting a year ago. I definitely give him credit for not making the piece as one-sided as the headline writer made it out to be.
"Vacancies weren't lower very often in the past 27 years," says the report, by Dupre + Scott Apartment Advisors, a Seattle company that tracks the rental market. "Even so, we expected vacancies would be lower by now."

In March, 4.1 percent of King County apartments and 3.1 percent of those in Seattle were vacant, according to Dupre + Scott.

That's much tighter than the rates of a few years ago, but up from March 2007, when vacancies were at 3.9 percent in the county and 2.8 percent in Seattle.

One big reason vacancies have started increasing is that the housing slump has all but ended conversion of apartments into condominiums.
…
Inventory also has grown as homeowners rent out homes they have been unable to sell, said Dean Foggitt, a broker at Brink Property Management, a Bellevue company that manages about 600 rentals in and around King County. He said his portfolio of rental houses is up 15 percent to 20 percent from a year ago.

"As far as tenant demand, we haven't seen that huge increase that we thought we would have, given the slowdown in the sales market," he said. "What we've seen more is people staying put, less tenants giving notice."
So, as the housing market stalls, rental inventory is actually increasing, which is preventing rents from rising as quickly as expected. That sounds awfully familiar… maybe because it's exactly what we have been predicting would happen, at least as far back as 2006:
As flippers become unable to sell, and 100%-financed families find themselves unable to afford their homes, it would seem that individual units are likely to come onto the rental market in greater numbers.
King County vacancy rates are at 4.1% (according to the report), which isn't a super-tight market, but does favor landlords slightly (5% is considered a "balanced" rental market). What I think is also interesting is that vacancy rates have been slowly increasing since late last year. In October the county-wide vacancy was at 3.8%. Even Dupre + Scott is predicting that the vacancy rate will continue rising, up to over 5% by 2010.
Unfortunately, I don't have enough money burning a hole in my pocket that I'm willing to spend the $130 for a Dupre + Scott subscription, so I don't have access to the full historical data on local apartment vacancies. However, I was able to find this pdf from the Seattle Times, which shows the vacancy rates for King, Snohomish, Pierce, and Kitsap back through 1997. Here's a reproduction of the vacancy rate graph (with 2008 data added for King and Snohomish):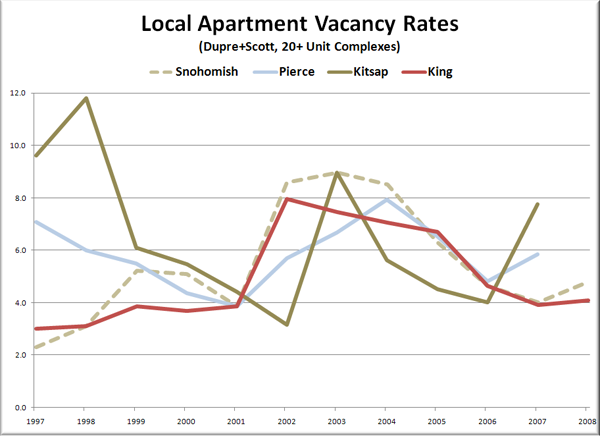 As you can see, King County has had lower vacancy rates in six of the last twelve years. Only from 2002 to 2005 were vacancy rates significantly higher than they are now. I'd hardly describe the current rental market as a panic frenzy to find a place that you can barely afford, which is what the P-I headline makes it out to be.
I'd also like to point out Aubrey's response to some criticism he received for the article over on his blog:
I knew it would happen. I arrived at work this morning to an e-mail from a reader angry about my story on rising apartment rents.

"Gee thanks! I wonder how much more money I will be paying for rent this year because of this article," he wrote. "I'm sure you've made many landlords very happy today."

I've gotten similar responses to previous stories about rising rents in the Seattle area. Some renters have told me landlords included copies of my stories with notices of rent increases.

I know that many real estate professionals blame the media for much of the current sideline sitting among potential buyers.

I hope that stories do have some sort of impact. After all, what's the point of journalism otherwise, right?

That said, I'm not after any particular outcome. I try to put the best information out there and let readers decide what to do with it.
He has some additional thoughts on the subject, and is soliciting feedback from his readers, so head over there and leave a comment if you've got strong feelings on that particular subject.
(Aubrey Cohen, Seattle P-I, 04.21.2008)