As the far-reaching economic consequences of the popping of the housing/credit bubble unfold, local governments are feeling the pain. Snohomish County faces a $9 million shortfall for 2009, forcing a hiring freeze. While down in King County, Ron Sims just announced that 255 jobs will be cut.
Financially ailing King County will send layoff notices to as many as 255 employees today, on top of 150 jobs already eliminated.
…
Paring next year's general fund to $644 million, Sims said, meant cutting $93 million from what would have been needed to maintain current levels of government service.
…
The budget is out of whack because revenues from sales tax and investments have dropped while the cost of employee benefits, cost-of-living adjustments, fuel and new labor contracts have risen.
One large factor in the drop of sales tax revenues is probably the end of the housing ATM. As documented at Calculated Risk, Mortgage Equity Withdrawal plunged to near zero in the second quarter 2008.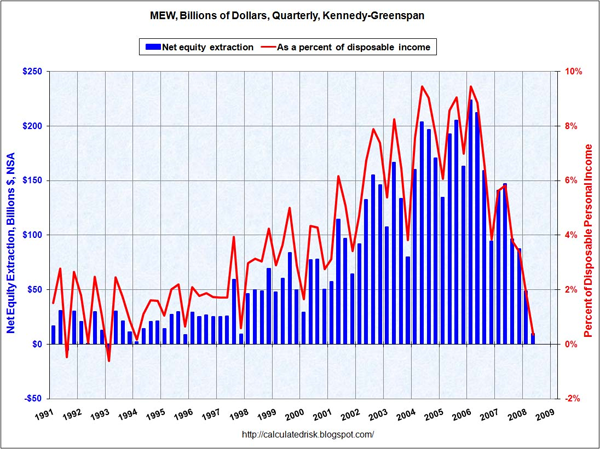 Seattle Times columnist Jon Talton runs through some more ways that the economic crunch is weighing on Seattle.
In recent days, the gravity of the crisis for the Puget Sound region may have been overshadowed by the gut-wrenching gyrations of the stock market — itself a marker for the lost wealth in a place heavily populated by investors. But Microsoft's announcement of re-evaluating its hiring situation is very big. Boeing and the striking Machinists, seeing the gravity of the moment, are talking again.

Nordstrom same-store sales falling nearly 10 percent in the five weeks ending Oct. 4 is a warning for what's to come for other retailers based here. As retirement nest eggs are vaporized, jobs lost and houses foreclosed, those vaunted consumers can no longer prop up the economy.

Nor can we count on exports. The world economy is slamming into a recession, and last week the International Monetary Fund warned of "extremely serious" consequences, including famine.
Yikes. I guess when folks were going around touting Seattle's economy as special and stronger than elsewhere, they didn't really consider the far-reaching effects of the bursting bubble. The bottom line seems to be that this mess runs deeper than anyone really realized.
(Keith Ervin, Seattle Times, 10.14.2008)
(Calculated Risk, 10.06.2008)
(Jon Talton, Seattle Times, 10.12.2008)