Let's take some time to check out the local press' reaction to the undeniably slow NWMLS housing market statistics for October.
Here's a blurb from the NWMLS press release that accompanied yesterday's numbers: Housing Activity in Western Washington during October Described as "Disappointing, but Not Unexpected"
Housing activity for Northwest Multiple Listing Service members was disappointing last month, but not surprising, according to one industry executive. He and other representatives of the Northwest's largest MLS believe the situation is improving.
…
Despite market volatility and shaky consumer confidence, one industry leader emphasized it's important to understand that advantageous market conditions currently exist for those who are motivated to buy. "The truth of the matter is the market conditions are ideal for first time buyers, move up buyers, and investors," said J. Lennox Scott, chairman and CEO of John L. Scott Real Estate.
…
"Thankfully, we now see tangible housing and lending programs being initiated, with many more on the horizon," said [managing vice president of Coldwell Banker Bain in Bellevue Ron] Sparks. "Interest rates are softening. We appear to be moving in a positive direction again!"
That sounds suspiciously like another bottom-call. Will we see even more bottom-calling from real estate salespeople around the sound this month, or have they finally managed to come to grips with the reality of the market? From the tone of the press release, I'm inclined to expect the former.
Read on to find out…
Eric Pryne and Elizabeth Rhodes, Seattle Times: Median King County house price falls below $400,000
Fear kept many potential sellers and buyers on the sidelines, said Kim Horn of the Horn Real Estate Group in Snoqualmie. With few exceptions, only those who absolutely must make a move now are in the market, she said.

"I'm working with eight sellers right now," Horn said, "None of them are selling because they want to."
Various real estate agents quoted in this Times piece blame the lousy real estate market on:
fear
negative economic news
uncertainty about the election
machinists strike at Boeing
high gas prices
It's got to be one of those, right? It certainly doesn't have anything to do with the natural unwinding of an unsustainable bubble. Nah.
Aubrey Cohen, Seattle P-I: House sales slip in county
Outside a Mount Baker open house late last month, Dave Morton and Kristine Kitayama, of Seattle, said the national news was causing some hesitation about buying.

"How could it not," Kitayama asked.

"I feel like in Seattle it's not going to get a whole lot worse," Morton said.

"Ooh, you're optimistic," Kitayama replied. "I think there's a chance it's still going to go down."
…
Reacting to the slow month, John L. Scott Real Estate Chairman and Chief Executive J. Lennox Scott sent agents a memo titled: "Why I continue to be hopeful."

"The bottom line is that the situation is manageable and things will improve," he wrote. "The most recent decline is due to the psychological impact of the stock market."
Does "psychological impact of the stock market" count as a separate scapegoat than "negative economic news"? I think it does. So far we're up to six different excuses.
Aubrey also had another somewhat related piece in today's P-I, Home sellers warming up to idea of renting.
With Seattle-area home prices lower than they have been in years, many see it as a good time to buy, but not a good time to sell their current homes.

"We're thinking about keeping our house and renting it out," Scott MacColl of Seattle said outside of a Mount Baker open house in late October.
…
But people turning to the rental market may find their homes don't rent as quickly or fetch as much as they hoped. The homes put up for rent instead of for sale and new condominiums bought in recent years with the intent of renting them out are driving up the area's vacancy rates and slowing rent increases, according to local experts.
Now wait a minute, I thought rents were going to be going up, up, up to the moon. That's what they've been telling us anyway.
Yoshiaki Nohara & Mike Benbow, Everett Herald: Home prices fall, but sales down as well
Home sales fell hard in Western Washington during October as concerns about a worldwide recession stopped many potential buyers in their tracks.

Nathan Gorton, director of the Snohomish County Camano Board of Realtors, said the industry was slammed with a slew of bad news last month. October saw pending sales drop nearly 30 percent and closed sales fall by 27 percent in comparison with last year.
While falling home prices may be bad news for "the industry," it is good news for home buyers.
C.R. Roberts, Tacoma News Tribune: Is this the bottom for housing?
The Northwest Multiple Listing Service on Thursday issued its monthly recap of home sales and prices in the region.

Again the numbers are down.

For now.

"I think we're really close to the bottom," Virgil Wells, associate broker with RE/MAX Partners and president of the Tacoma-Pierce County Association of Realtors, said Thursday.

"I think we're as close to bottoming out in pricing as I expected," said Dick Beeson, a broker with Windermere Realty and a director at the Northwest MLS. "It may skid a bit, but I think we're right there. There is some consternation, yes. But we all feel we're right about there."
Yes, I love it. More bottom-calling. I think this is a good time to remind the readers of Dick Beeson's words ten months ago, in January:
"I believe the bottom has arrived in the Puget Sound marketplace and from here on, prices will stay level or advance slightly in 2008."
Or how about this quote from April:
The local market "has reached bottom — or pretty darn close" and although inventory continues to grow, so does optimism among buyers, Northwest MLS director Dick Beeson said.
Dick Beeson is definitely a good source to go to for an accurate measure of the "bottom" in the local housing market, don't you think?
[Update: Here's a fun chart of King County and Pierce County (where Dick Beeson is based) SFH prices since July 2007, alongside Mr. Beeson's bottom-calling:]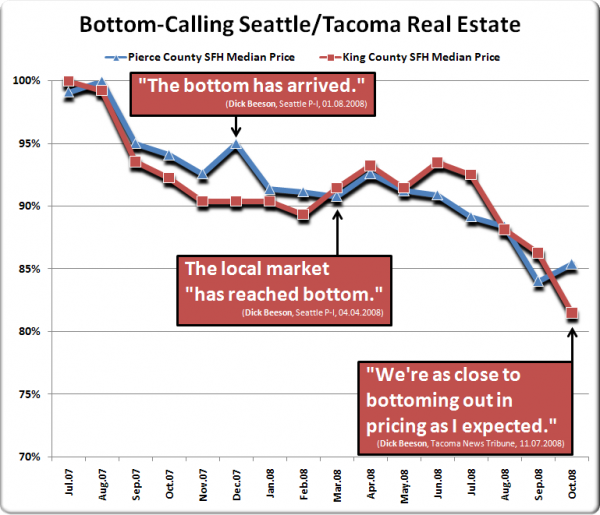 Rolf Boone, The Olympian: County home sales buck trend
Thurston County home shoppers apparently were unfazed by turmoil on Wall Street last month and bought more than 300 homes in October, nearly matching total sales for October 2007, the Northwest Multiple Listing Service reported Thursday.

Last month, 316 condominium and single-family residences sold in the county, down 4.8 percent from the 332 units that sold in October 2007, combined figures show.

That reverses a recent trend in Thurston County for condo and single-family house sales. Until October, year-over-year home sales had fallen at least 18 percent every month since January.
Apparently everything's coming up roses down in Thurston County. At least that's how the article reads anyway.
Here's a bonus article for the month from KING 5: Western WA home prices plummet, but so do sales
Home sales in Western Washington fell in October compared to a year ago, a statistic that experts say was disappointing, but not unexpected.

But the upside is the price of homes has also dropped significantly.
I think this is the first time I've seen falling price depicted as a good thing by a major media outlet. Good for them.
(Eric Pryne, Seattle Times, 11.06.2008)
(Eric Pryne & Elizabeth Rhodes, Seattle Times, 11.07.2008)
(Aubrey Cohen, Seattle P-I, 11.06.2008)
(Aubrey Cohen, Seattle P-I, 11.06.2008)
(Yoshiaki Nohara & Mike Benbow, Everett Herald, 11.07.2008)
(C.R. Roberts, Tacoma News Tribune, 11.07.2008)
(Rolf Boone, Olympian, 11.07.2008)
(Travis Pittman, KING 5, 11.06.2008)