I thought I'd lump a few "sign of the times" type of stories into a single post, since it gets old after a while constantly reading (and writing) posts that are basically just slight variations on the "the real estate market is slow" theme.
Here's another interesting piece from Kirsten Grind over at the Puget Sound Business Journal about reductions and shifts in the real estate agent job market over the last year.
Since the end of last year, about 2,800 Washington agents have abandoned the business, a decrease of about 9 percent, and hundreds more have put their licenses on hold, according to the state's Department of Licensing.
…
"I think everyone was expecting some sort of rebound in the third and fourth quarter," said Russell Hokanson, chief executive of the Seattle-King County Association of Realtors.

"But just when it seemed we were coming out, we had another meltdown in the stock market in September and October and that hit consumer confidence again."
The article also points out an interesting trend that many agents are moving to smaller, brokerages in an attempt to cut costs during these lean times. Maybe it's just me, but I think Kirsten Grind has been on a roll lately with interesting and insightful articles. Far better than the usual rehashed press releases we get from the Times. And I'm not just saying that because of this article.
Meanwhile, yet another Seattle condo project is headed for the auction block…
Here's a scene that would have been unheard-of a year ago.

Back then, the condominiums at Press on Capitol Hill were selling in the $300,000s or $400,000s. But for the past couple of weeks, big red "Auction" signs have adorned the building — and bids for some of the condos inside will start at roughly half their original price when they are auctioned off later this month.

As one Press Condominiums resident Brian Gruneir noted Friday, there was an air of desperation a couple of weekends ago, when teenagers stood on nearby corners holding eye-catching red auction signs with arrows pointed toward the Press' two buildings at Belmont Avenue and Pine Street.
I've been watching the county records to see how much the Seventeen07 condos ended up going for in their recent auction, but data has not yet been posted. Also, Quadrant homes is "holding off on further selling" for their "The Ridge at Gig Harbor" development, and D.R. Horton is auctioning off nearly 100 Puget Sound houses with "starting bids as low as $89,000."
Lastly, I posted this one on the forums, but thought it was worth sharing on the front page as well. This large billboard has been on display right next to southbound I-5 in Tacoma all year. My wife took this picture last Wednesday as we drove down to my parents' for Thanksgiving: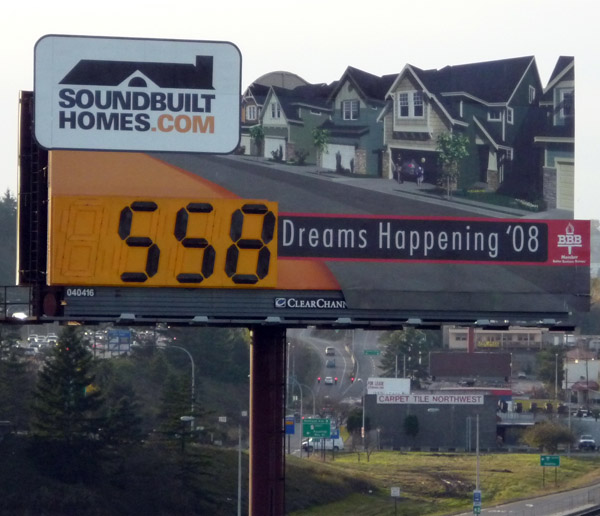 It would appear that sales projections for 2008 at Soundbuilt Homes were at least two times too high. Unless they are holding out some secret weapon for Christmas, I doubt they'll be selling another 442 homes before the year is out to make use of that lonely fourth digit. Oh well.
(Kirsten Grind, Puget Sound Business Journal, 12.01.2008)
(Kery Murakami, Seattle P-I, 12.01.2008)