Some quotes from J. Lennox Scott about the local real estate market.
This is an ideal time for buyers because they no longer have to pay the pricing premium that existed in previous years. There is less competition for homes, yet prices continue to appreciate, creating a great opportunity for buyers to position themselves for the future.
Here's what has happened with home prices since Mr. Scott said that they "continue to appreciate" last October: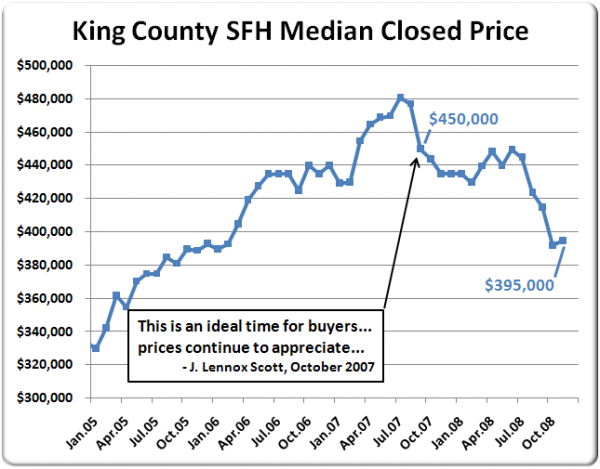 Another quote from Mr. Scott, in November 2007:
Well, we're definitely in the adjustment phase of the real estate cycle. Every time you come off a frenzy market, a surge market… you do see sales pull back. Sales activities does lower about ten to fifteen percent.
And here's what sales activities have done since the "frenzy market" of 2005: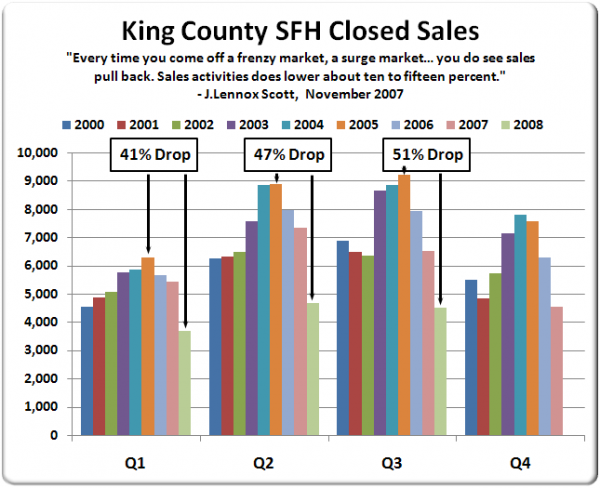 At the time Mr. Scott said that in late 2007, sales activities were already down 15-40% from the 2005 frenzy. In the year since then they have fallen an additional 30%.
Some quotes from Dick Beeson, Tacoma Windermere broker and NWMLS director:
January 2008:
I believe the bottom has arrived in the Puget Sound marketplace and from here on, prices will stay level or advance slightly in 2008.
The local market "has reached bottom — or pretty darn close" and although inventory continues to grow, so does optimism among buyers, Northwest MLS director Dick Beeson said.
I think we're as close to bottoming out in pricing as I expected.
Here's what home prices in Seattle and Tacoma have done since July last year: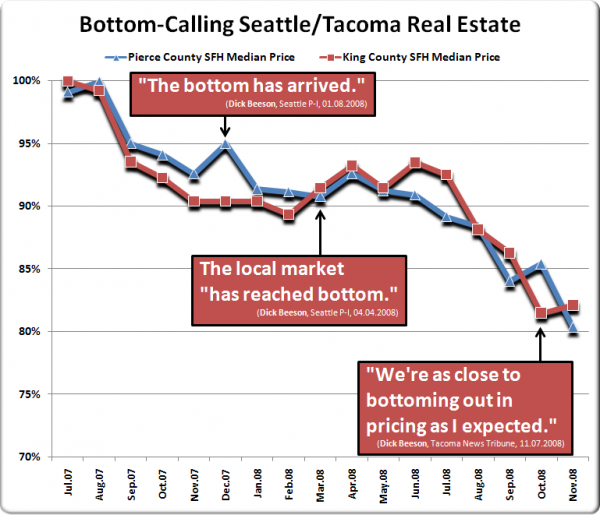 I'm not going to tell you who you should or shouldn't trust when it comes to predictions about the local housing market, but I do think everyone should at least be equipped with all of the data when making such a decision.