Incredible. Even with the major continuing job losses and home prices in unabated decline, Matthew Gardner continues to spread the word of a recovery for Seattle in 2009.
Here are a couple of slides from a PowerPoint presentation Matthew Gardner used in a class for local real estate agents on the 19th: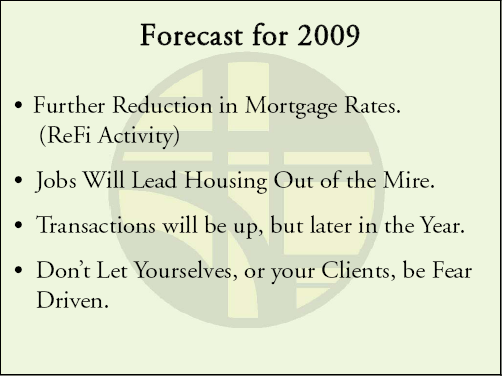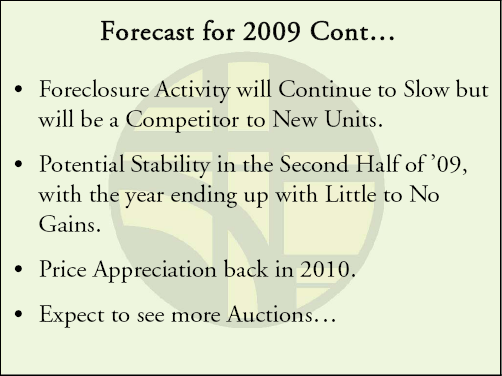 Jobs will lead to a housing recovery in 2009? Really? And how exactly are foreclosures going to "continue to slow," when the latest data shows that they haven't even started to slow?
Let's take a look at Matthew Gardner's recent performance when it comes to accurately forecasting the local market…
2007
Gardner Forecast: Prices +5 to +9%
Case-Shiller: +0.5%
King Co. SFH: -1.1%
2008
Gardner Forecast: Prices 0 to -5%
Case-Shiller: -11.2% (Nov.)
King Co. SFH: -7.2%
Here's a visual representation of Matthew Gardner's predictions for 2007 and 2008 vs. the Case-Shiller index: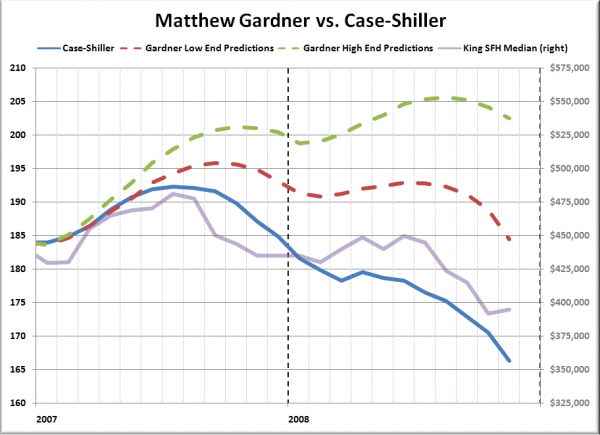 Like I said about J. Lennox Scott and Dick Beeson: I'm not going to tell you who you should or shouldn't trust when it comes to predictions about the local housing market, but I do think everyone should at least be equipped with all of the data when making such a decision.