Here's a chart to help put the latest local unemployment statistics in perspective: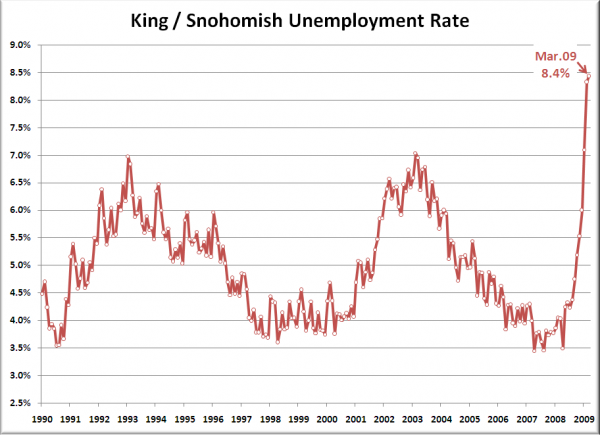 You can see that yes, unemployment reached yet another record high in March. However, the good news is that the rate of increase in the unemployment rate has slowed significantly.
For the last six months or so the unemployment rate had been jumping by an average of 0.7 percentage points every month. In contrast, from February to March, the Seattle area's unemployment rate increased by only 0.1 percentage points.
Could this be the first sign that things are starting to level off, or is this just a temporary blip on the way to fifteen or even twenty percent unemployment in Seattle? The next few months should shed light on the situation either way.
Related coverage elsewhere:
Seattle Times: 9.2% unemployment "troubling" for state
Seattle P-I: Washington unemployment rate tops 9 percent
Seattle P-I: UW to eliminate about 1,000 jobs by May 1