Now that the last month of 2009 is behind us, let's have a look at December's stats preview. Most of the charts below are based on broad county-wide data that is available through a simple search of King County Records. If you have additional stats you'd like to see in the "preview," drop a line in the comments and I'll see what I can do.
Here's your preview of December's foreclosure and home sale stats:
First up, total home sales as measured by the number of "Warranty Deeds" filed with the county: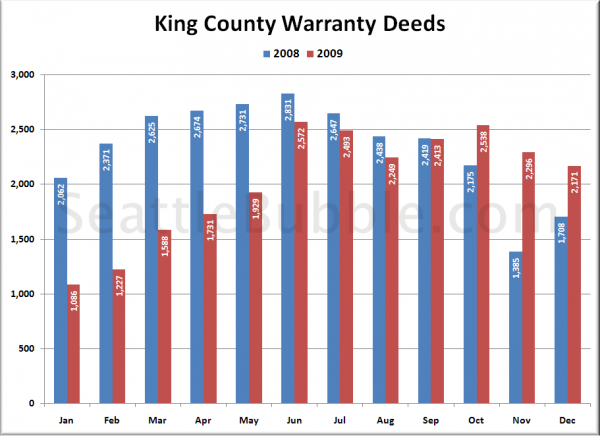 Last year warranty deeds increased 23% from November to December, while closed sales (SFH + condo) increased just 2%. This year, warranty deeds decreased 5% from November to December, so it seems safe to assume that total closed sales will probably decrease as well, and possibly by more than 5%. I'd guess that King Co. closed SFH sales will come in somewhere between 1,300 and 1,400, down 17% MOM, but up 40% YOY.
Next, here's Notices of Trustee sale, which are an indication of the number of homes currently in the foreclosure process: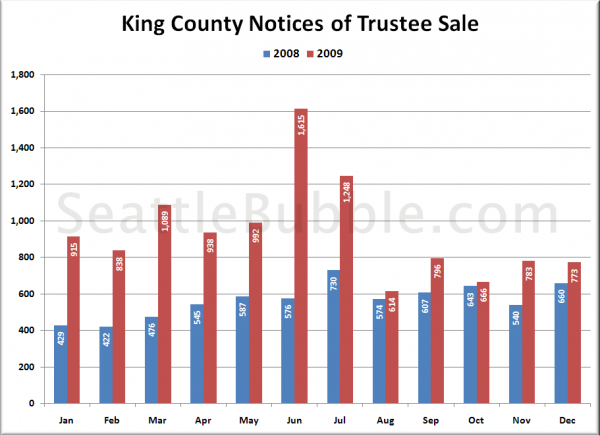 Looks like a bit of a plateau since the new law went into effect. If foreclosures hold around this high 700's level for another month we'll actually see a year-over-year decrease next month.
Here's another measure of foreclosures, looking at Trustee Deeds, which is the type of document filed with the county when the bank actually repossesses a house through the trustee auction process. Note that there are other ways for the bank to repossess a house that result in different documents being filed, such as when a borrower "turns in the keys" and files a "Deed in Lieu of Foreclosure."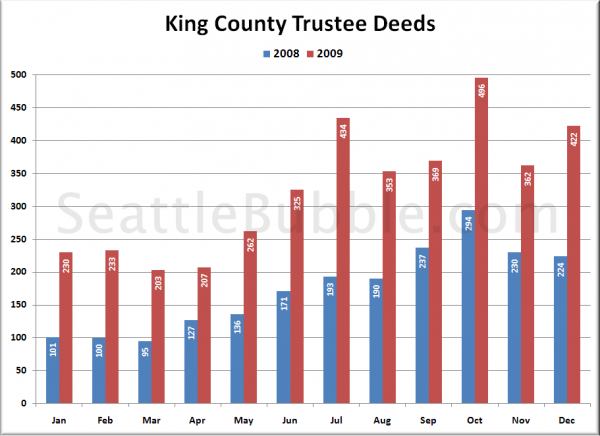 Up 88% from last year, and up 17% from last month.
Lastly, here's an approximate guess at where the month-end inventory was, based on our sidebar inventory tracker (powered by Estately):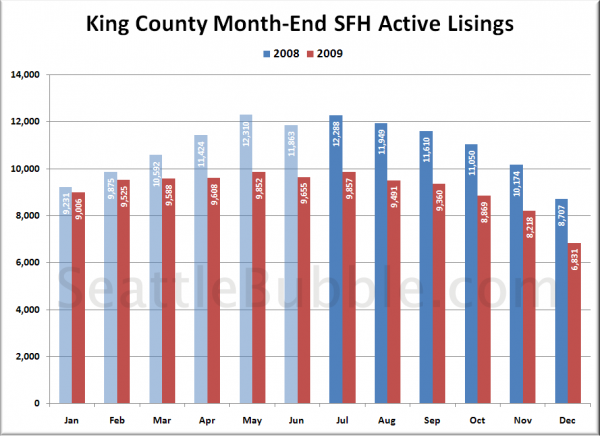 No surprise to see another month-to-month decline here, as December is always the lowest month. Look for listings to begin ramping up again in the coming months.
Stay tuned later this month a for more detailed look at each of these metrics as the "official" data is released from various sources.