Time for the monthly reporting roundup, where I read all the local paper rehashes of the NWMLS press release so you don't have to.
Here's a link to this month's NWMLS press release (although it still isn't live yet, it should appear here): Northwest MLS brokers report 51% jump in pending sales
Home sales around Washington state surged last month, with brokers reporting activity at levels "like we haven't seen in a while," according to the owner of a Seattle brokerage. Northwest Multiple Listing Service members reported 8,605 pending sales during March for a 51 percent increase over the same month a year ago.
…
Prices for last month's closed sales of single family homes and condominiums (combined) were down about 2 percent system wide. Since January, however, prices have inched up almost 1.8 percent.

Within King County, price changes from a year ago ranged from double-digit increases for homes on Mercer Island (up 26.9 percent), Central Seattle (up 14.9 percent), and Vashon (up 10 percent), to double- digit declines in some parts of South King County.
Heh, never mind the fact that for Mercer Island we're comparing a month with just 13 closed sales to a month with a mere 3 closed sales a year ago. Let's just throw that 26.9% increase in there and act like it means something. That'll get people all whipped into a frenzy, right?
Here's a little chart I made yesterday of the SFH median closed price in King County over the last few years.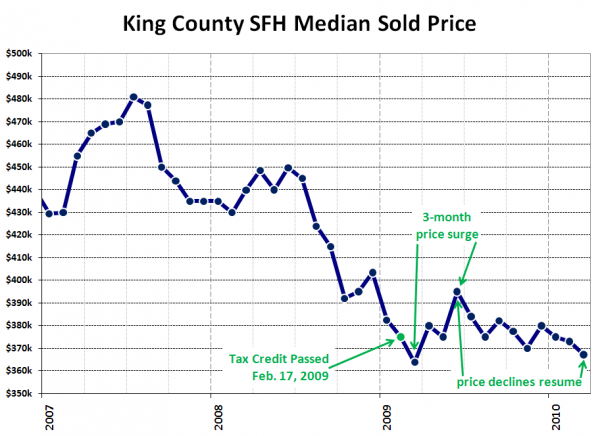 Just looking at the year-over-year number would give you the impression that home prices are "stable," when in fact over the last nine months, the median has fallen fairly steadily, losing seven percent from last year's spring mini-peak.
Moving on, let's have a look at how the local press handled another nonsense-filled press release from the NWMLS.
Eric Pryne, Seattle Times: King County house prices post year-over-year rise for first time in 2 years
The bar couldn't have been lower. Still, an increase is an increase.

House prices in King County rose in March for the first time in more than two years, according to one closely watched measure.

The median price of single-family homes that sold last month was $367,250, up 0.9 percent from March 2009, the Northwest Multiple Listing Service said Monday.

While tiny, the year-over-year countywide increase was the first since January 2008.

The median price in March 2009 — $363,850 — was the lowest in years. And last month's number, while slightly higher, was the lowest since then.
…
The March statistics are "very encouraging," said Glenn Crellin, director of the Washington Center for Real Estate Research at Washington State University.

But the market's future beyond the next few months hinges on several factors, he said, including job growth and the Federal Reserve's success in keeping interest rates low, as it has vowed, in the face of increasing pressure from buyers of government debt.

Crellin said the year-over-year increase in the median King County house price in March probably was due in part to a federal tax credit for repeat buyers that Congress approved late last year. It has brought some buyers into the market, he said, and they are "taking advantage of bargains they're finding in higher-priced properties."
…
Tim Ellis, who edits the real-estate blog Seattlebubble.com, said in an e-mail that he expects Seattle-area sales to continue to rise through May, then plateau and maybe drop in the summer and autumn after the tax credits expire.
Another well-balanced article from Mr. Pryne. I don't really have anything to add.
Aubrey Cohen, Seattle P-I: Home prices post first year-to-year rise in more than two years
King County's median house sales price in March posted its first year-over-year increase in more than two years, according to a new report.

"I thought the numbers were surprisingly strong," said Glenn Crellin, director of the Washington Center for Real Estate Research at Washington State University. "The stabilization of prices in King County was noteworthy."
Noteworthy assuming we ignore the above chart, that is. It's good to see Aubrey back, but I was a bit disappointed that later in the article he implied that pending sales were somehow a better measure of sales activity than closed sales, when in reality the exact opposite is true.
Mike Benbow, Everett Herald: Federal tax incentive gives Snohomish County home sales a nice bump
Home sales soared in Snohomish County last month as buyers tried to beat the upcoming deadline for a federal tax break or to invest thanks to prices they haven't seen in five to six years.

There were 865 homes sold in the county in March, a 68 percent increase from a year ago. Pending sales in the county, meaning the deals were signed in March but not closed, rose 77 percent from last year, the highest in the Puget Sound area.
…
"The Seattle surge has returned thanks to the opportunities that have been afforded to homeowners through the federal tax credit, historically low interest rates, and increased affordability," J. Lennox Scott of John L. Scott Real Estate said in a news release.

Home prices in the county continued to fall last month. The combined median price of a single-family home and condominium in the county in March was $268,000, a 12 percent drop from a year ago, when the median was $304,950.
So lower prices = more buyers. Crazy!
John Gillie, Tacoma News Tribune: Home sales surge 36% in Pierce County
An $8,000 tax credit and bargain home prices convinced Desiree Snowden and her husband, Stanley, to buy their first home in Spanaway earlier this year.

"After 18 years of living in rental and military housing," said Desiree Snowden, "we were ready to have a home of our own."

The federal tax credit allowed the couple to pay off their debts. And the three-bedroom, two-bath home's $209,000 price meant a $300-per-month cut in the their housing costs compared with base housing. Neighbors told Snowden the house was listed at $358,000 at one point.

"And we got 800 square feet more," Snowden said.
Now that is buying for the right reasons. Not because you're afraid you're going to get priced out of the market forever, but because it makes good financial sense.
But some veteran real estate brokers and analysts aren't ready to declare the home sales slump over.

"A good month does not a year make," said Al Morken, a Tacoma Realtor with 38 years of experience.

"It's kind of a mixed report," said Morken, who has analyzed real estate trends for two decades.

While the pending deals numbers are encouraging, he said, median sales prices in Western and Central Washington were still down by 2.05 percent over March last year. Pierce County median prices were down 5.86 percent to $215,000 compared with March last year. Snohomish prices declined by 12.12 percent, but King County prices crept up 2.67 percent on closed sales, he said.
So wait, the encouraging part is that sales are increasing, but the discouraging part is that prices are still getting more affordable? Seems to me like that should be part of the good news.
No story spotted so far from The Olympian. I'll update this post if they publish one.
[Update]
Here's the story from The Olympian, a day late.
Rolf Boone, The Olympian: Thurston County home sales up
The Thurston County housing market posted its strongest month of the year, with March home sales rising 34 percent in the year-over-year period, according to Northwest Multiple Listing Service data released this week.

Home sales jumped 34 percent to 286 units last month from 214 units in March 2009, combined single-family residence and condo data show. Pending sales also surged 30 percent in the year-over-year period ending in March, and the total number of homes for sale rose nearly 13 percent to more than 1,800 units. More than 650 homes were listed for sale in March, the data show.

Although a federal tax incentive program for first-time buyers and existing homeowners is set to expire April 30, South Sound home sales have been stimulated by lower prices, not tax credits, Ken Anderson said Tuesday. Anderson is the broker and owner of Coldwell Banker Evergreen Olympic Realty in Olympia.

When you can get a $30,000 price reduction on a house from last year, an $8,000 or $6,500 tax credit just doesn't compare, he said. "Affordability is trumping the tax credit," said Anderson, although he acknowledged the tax credit as a "nice bonus."
Wow, so this lower prices = more buyers math works everywhere? Incredible!
(Eric Pryne, Seattle Times, 04.05.2010)
(Aubrey Cohen, Seattle P-I, 04.05.2010)
(Mike Benbow, Everett Herald, 04.06.2010)
(John Gillie, Tacoma News Tribune, 04.06.2010)
(Rolf Boone, The Olympian, 04.07.2010)