Anybody remember the Thornton Place condos at Northgate?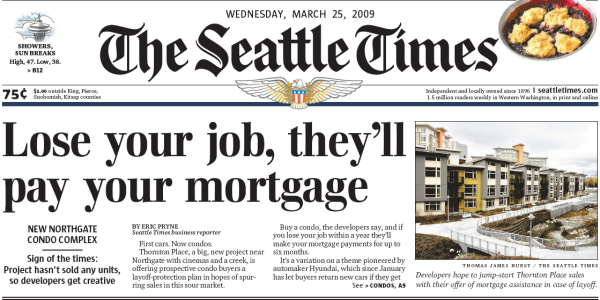 Thornton Place's 109 condos have been on the market since last summer. None has sold, and now the complex is nearly finished.

"We were looking at what would get people off the fence," said Jeff Cook, president and chief operating officer of Stellar Holdings, one of the companies building Thornton Place. "We think there's a pretty big pent-up demand for housing."
Well, that didn't work so well. Recall this story from earlier this year: A year later, Northgate condos still all unsold
No units have sold despite more than a year of marketing. A month ago developers Stellar Holdings and Lorig Associates suspended sales efforts indefinitely.
…
Stellar and Lorig had the misfortune to bring them to market in the midst of the worst housing downturn in decades. Even a much-publicized layoff-protection offer a year ago — you lose your job, we'll pay your mortgage — didn't attract any buyers.

So Stellar and Lorig cut prices, and by late last year they had 18 of 34 condos in the project's first phase under contract — just enough to meet the Federal Housing Administration's requirement that 50 percent of a project be presold before the agency will insure buyers' mortgages.

FHA approval is almost a prerequisite for sales in this tough market.

But in mid-December, Ainge says, he noticed a suspicious half-inch gap between the wallboard and flooring in one unit. That touched off a chain of events that led engineers to conclude by mid-January that part of the project had a settling problem.

It afflicts 20 of the 109 units, Ainge says. They share a concrete base with Thornton Place's parking garage, and apparently December's cold snap caused the concrete to contract, leaving cracks and gaps in spots.

The developers notified the 18 first-phase buyers of the problem Jan. 26, Ainge says. Then, three days later, they learned the FHA had denied Thornton Place's application for approval, concerned the project had more nonresidential space than agency rules allow.

After that one-two punch, Ainge says, the developers decided to give the buyers the opportunity to back out of their contracts. The FHA reversed itself and approved the project a few weeks later, but by then most of the buyers had rescinded their offers, Ainge says.

He doesn't know when sales will resume. First the settling problem must be fixed, he says, and he's not sure how long that will take.
Today, thanks to Urbnlivn, we learn the answer: Sales will not resume. The entire complex has gone apartment.
The condominiums at Thornton Place are now available… for lease!

Creekside Apartments, as these homes are now called are located in private, three-story buildings along lush Thornton Creek. The homes have great outdoor space: decks or patios for weekend lounging, grilling and watching the world go by. And, four-legged residents can move-in too – Fido and Hello Kitty are both welcome to join in the fun.
Here's what I had to say in March 2009 when they launched the "lose your job" marketing stunt:
I think it's interesting that developers and real estate professionals still don't get the fact that there is little to no "pent-up demand." During the bubble years, the industry borrowed demand from the future by offering ridiculous dangerous financing. Now the future has come, and that demand is gone because most everyone who may have qualified for a house in 2009 already bought one in 2006.

…I think it's going to take more than a $15,000 backstop incentive and some free advertising in the Seattle Times to move these pads. Good luck with that.