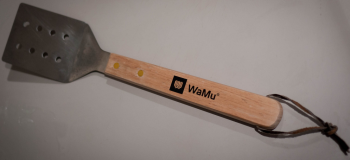 Photo
by Flickr user RickerPix
found in
the Seattle Bubble Flickr pool
Way back in the days before everyone thought it would be a great idea to get rich selling progressively more ridiculously expensive homes to each other, "flipping" had a different meaning than most people associate with the word today.
Flipping a home wasn't just buying it with a no-doc zero-down loan, sitting on it a few months, maybe slapping some paint and a few granite countertops down, then selling for a quick profit to the next sucker who came along. Flipping usually meant buying a home in serious need of repair, putting hours of labor and tens of thousands of dollars into repairing/rehabbing the shack into a nice, livable home, then selling it for a decent profit.
In short, flipping homes was hard work.
While the days of the zero-doc, zero-down, zero-effort flip are thankfully over, it looks like the days of the hardcore sweat equity flip may be returning, even in the midst of the housing bust and the continuing economic malaise.
Consider the home at 4706 S Orcas St in Seattle's Seward Park / Columbia City neighborhood. Featured a year ago as the cheapest Seattle home per square foot, it eventually sold in March for $200,000 (even less than the December 2009 asking price, and just $76/sqft).
I admit, I was rather shocked when I saw an alert that the home had come back on the market just three months later, with a new asking price of $389,000. That is, I was shocked until I saw what they had done to the home during those three months: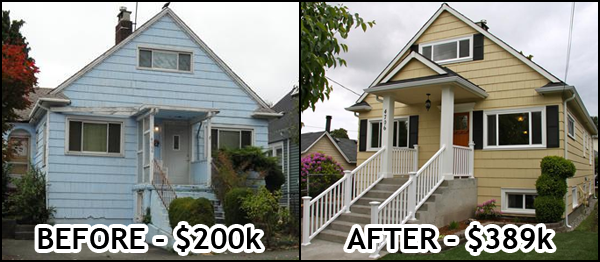 Judging from the listing photos and descriptions, this is no quick cosmetic flip. The flipper built an entirely new porch, replaced the doors and windows, completely landscaped the yard, added an entire bathroom, redid the other bathroom, replaced the roof, resurfaced many of the walls, gutted and re-finished the kitchen, added nice trim throughout, and replaced much of the carpet with nice hardwood floors.
Not surprisingly, the home went pending in less than a month, and sold in July for the full asking price.
This is the kind of flipping I can get behind. The flipper of 4706 S Orcas St clearly put a lot of time and serious effort into taking a house that most people would consider to be a piece of garbage and turning it into a house that just about anyone would be happy to call home. That is a flip that deserves to earn some profit.
Have you seen any particularly good flips in the last year?