Long-time readers of Seattle Bubble may recall that while I generally avoid engaging in blatant schadenfreude, I do make one specific exception.
That special case is for a commenter that used to be quite prolific on these pages, leaving over 800 comments between November 2005 and August 2007. Dozens of those comments were on the subject of the ever-increasing value Zillow was "Zestimating" for the home he bought for $431,200 in April 2005 in Loyal Heights (which he imagines to be in Ballard).
Here's a representative example of the type of thing he used to post here on a fairly regular basis:
I also notice today that Zillow revised the value for my house… it shot up another $16K in just one month! Now stands at $549,788. That's $167,359 more than [the Zestimate was] when we bought it in April 2005.*

Synthetik…remember you bet me my Zillow value would tank???? Nice prediction… Laughing Laughing Laughing Laughing Laughing

*[Zillow backdates changes in their Zestimates, so although the Zestimate for the house in question had a Zestimate of $382,429 in April 2005, it shows as $404,000 for April 2005 as of March 2011.]
In May 2007 (the month Zillow's backdated Zestimate for his home peaked) he was even on here bragging about how high his Zestimate was and how unlikely it was to fall by the following December. By December it had fallen to its lowest point all year.
But the peak is old news, and not the reason for this post. I bring all of this up today because with this week's update, our old friend's Zillow Zestimate crossed another milestone. At $430,500, his home is now worth less than he paid nearly six years ago, according to the algorithms at Zillow that he once so revered.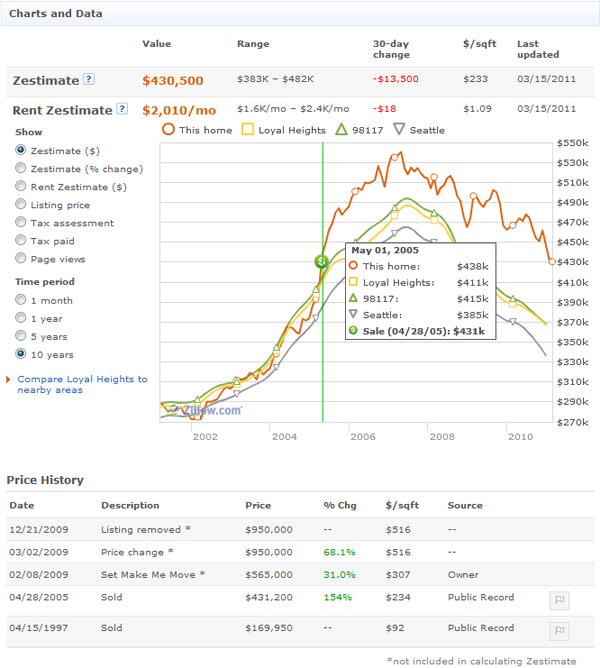 Just for kicks, let's run a bit of math on Mr. Laughing's home situation over the last few years. I find this exercise to be particularly interesting since he bought a home right around the time that I was first shopping for a home and decided to start this blog instead of jumping into an insane market.
Let's assume our friend had $27,000 to put down (6.25% of the price). We'll further assume that he took out one mortgage at 5.86% for 80% of the purchase price ($345,000) and another at 7% for the remainder ($59,200). Total monthly payments (including taxes and insurance): $2,800. Total interest paid in six years: $140,383. We'll ignore the cost of maintenance and the income tax write off (which basically cancel each other out) to keep things simple.
But what if he had rented instead? Let's assume that Zillow's fancy new "Rent Zestimate" for his home is accurate at $2,010 a month, and that rents in the area have increased at about 3% annually over the last few years. That would put his starting rent in 2005 at $1,734, and his total rent paid over six years at $134,583. If he saved the difference between rent and home payments each month, he would have $67,017 in the bank, assuming zero interest.
Here's the difference in handy table form, including a comparison of extractable equity—how much cash could you get in your pocket from each scenario, which you might want to do if the house you were living in wasn't your dream home, or a job opportunity came up in another state, or you just want to move to a nicer neighborhood.
| | | |
| --- | --- | --- |
| | Buy | Rent |
| "Thrown Away" | $140,383 | $134,583 |
| Equity | $60,975 | $67,017 |
| Extractable Equity | $22,230 | $67,017 |
I can't think of much else to say other than to wonder out loud: Who is Laughing Laughing Laughing Laughing Laughing now?
---
P.S. – Although this commenter was open about his real identity and his home address on this site, I'm not going to call those out specifically since we were a lot less popular back then, and that just seems to be crossing the line.