There has been a lot of talk the last week or so in the comments about home prices and incomes. I've linked up my September post on the topic a few times, but I thought it would be nice to run an update since it's been half a year.
Here's my conclusion from that post:
Looking at per capita incomes gives us a better picture of where home prices really began to detach from the local economic fundamentals. From 1999 through 2002, the per capita index averaged 0.4% lower than the home price index. In January 2003, the home price index was only 7.7% higher than the per capita income index. By mid-2007, the difference had skyrocketed to 40.4%. The latest readings put the home price index 10.2% above the per capita income index.

By this measure, home prices look to be still about ten percent higher than where incomes suggest they "should" be, similar to the low end of the remaining correction suggested by the price to rent ratio.
This is fairly well in-line with what I said in my 2011 predictions post:
I'm expecting prices to fall another five to ten percent in 2011, mostly closing the remaining gap between incomes and home prices.
Before we get to the charts, allow me to explain exactly where the data comes from.
For median household incomes, I'm using King County's Median Household Income from the OFM. For per capita incomes, I'm using the Seattle metro area's Per Capita income from the BEA. Since the BEA's metro-area-level data only goes through 2009, I approximated the Seattle-area's 2010 per capita income based on Washington State's rate of change in the BEA's State Personal Income 2010. For 2011, I'm assuming incomes flatten (OFM shows a slight decrease 2009 to 2010, while the BEA shows a slight increase from 2009 to 2010).
For home prices, I'm using the Case-Shiller home price index for Seattle, indexed to September 2008's King County median sale price of $415,000. I converted the CS-HPI into a dollar amount in order to create the price-to-income ratio charts.
Okay, on to the charts. First up is home price to median household income: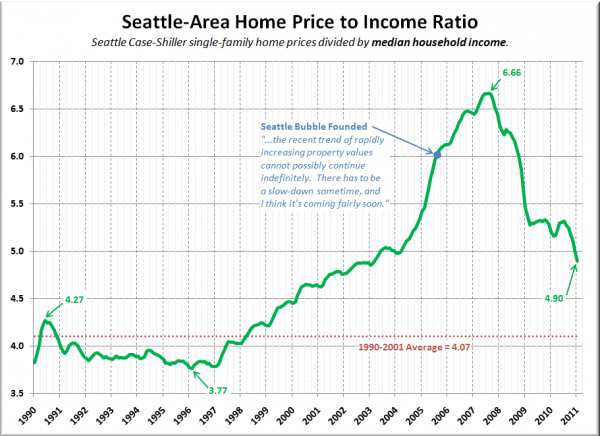 Still a bit out of whack on this one, with the ratio 19% higher than it was 1990-2001. However, as I argued in September, I feel like local per capita income might be a better measure, since it's undeniable that a lot of wealth has been created in the Seattle area since the late '90s, a factor that I believe it would be foolish to ignore. Here's the home price to per capita income ratio chart: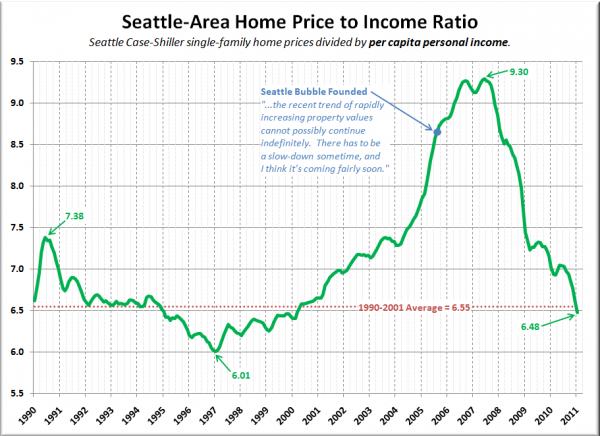 Whoa. Check it out. As of January's data, we're actually 1% below the 1990-2001 average. I expect we'll see a bit of an "over-correction," so I'm definitely not calling the bottom based on this metric alone. That said, it is the first time home prices have actually fallen back down in-line with local economic fundamentals, which is absolutely noteworthy.
Here's the chart of all three measures, indexed to 1990 = 100: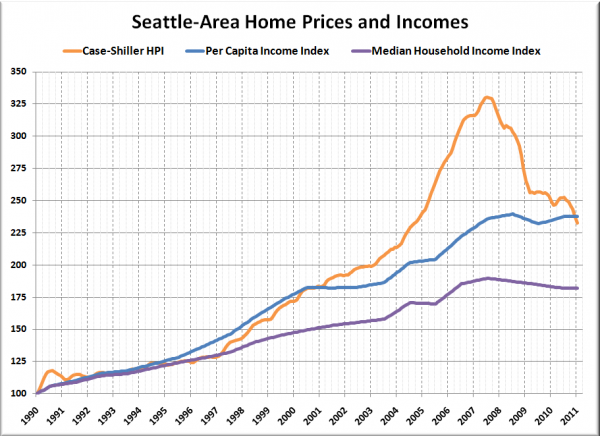 Are we going to get back to the same relationship between median household incomes and home prices that we had 1990-1997? Personally, I doubt it. If you recall, way back in February 2009, I called for the "bottom" in December 2010 at 36% off the peak. Note that this was before the $8,000 tax credit put the home price correction on hold for about a year. As of January, prices as measured by Seattle's Case-Shiller home price index are 30% off peak. Another 6% drop from the peak translates to about another $30,000 off local home prices. Doesn't seem too unreasonable to me by this coming December.
Of course, even once we hit "bottom," I expect we'll be staying there for quite some time. Inflation-adjusted home prices may even keep falling for quite a few years as home prices rise slower than growth in the economy as a whole. As Jon Talton bluntly put it in Saturday's column: "The old boom ain't coming back." No doubt.