Now seems like as good a time as any to have another look at the "Cycle of Market Emotions":
The Cycle of Market Emotions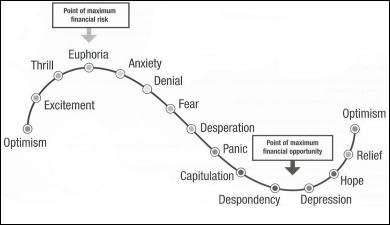 By my reckoning, in late 2007 we were somewhere between anxiety and denial, and by mid-2010 we were treading water between fear and desperation. Today I suspect we've made it to capitulation, based on two major factors:
Many sellers have given up, not even bothering to list their homes.
Many would-be buyers have given up on home ownership entirely.
For evidence that sellers have given up, look no further than any of our recent posts on inventory trends, showing flat/falling inventory at a time of year that usually sees the largest increases.
For evidence that buyers are giving up on home ownership, consider mainstream articles such as this story that ran in Bloomberg Tuesday: Americans Shun Most Affordable Homes in Generation as Owning Loses Appeal
Victoria Pauli signed a one-year lease last week to stay in her rental home in Fair Oaks, California. She had considered buying in the area, where property prices have slumped 57 percent since a 2005 peak.

In the end, she decided it wasn't worth it.

"I know people who have watched their home values get cut in half, and I know people who are losing their homes," said Pauli, 31, who works as a property manager for a real estate company. "It's part of the American dream to want to own your own home, and I used to feel that way, but now I tell myself: Be careful what you wish for."

The most affordable real estate in a generation is failing to lure buyers as Americans like Pauli sour on the idea of home ownership.
Sure sounds like capitulation to me. Of course, we may be in the capitulation and despondency stage for quite some time—maybe years, even—so I think it's a bit early yet to be looking for relief and optimism around the corner.
What about you? Where do you think we are in the cycle?