It's time once again for the monthly reporting roundup, where you can read my wry commentary about the news instead of subjecting yourself to boring rehashes of the NWMLS press release (or in addition to, if that's what floats your boat).
Strangely, as far as I can tell the NWMLS has still not yet published their press release this month. When it eventually is, it should be found here. In the meantime, it was sent to me, so here's an excerpt:
Pending sales around Washington State at mid-year surpass year-ago levels; industry leader says "It feels like we have hit the bottom of the market"

Continuing the double-digit gain in home sales during May, last month's pending sales surpassed the volume for June 2010 by nearly 36 percent .
Oops, let's pause again to look at the pending sales chart in order to make sense of this claim of "continuing double-digit gains."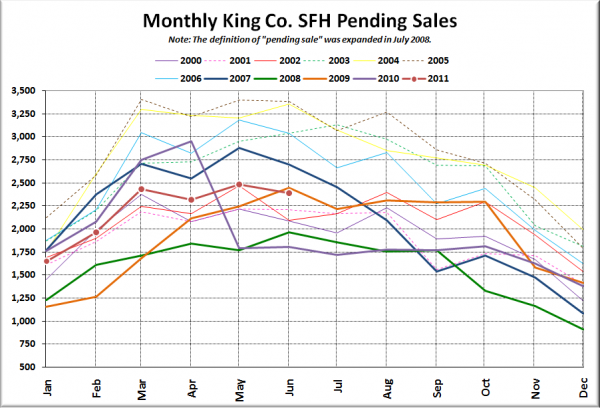 As you can see, "double digit gains" doesn't really indicate that this year is seeing particularly strong sales, but rather it's just a result of sales falling off a cliff post-tax-credit last year. Also, don't forget that "pending" doesn't mean what it used to. Back to the press release…
"It feels like we have hit the bottom of the market," remarked Lennox Scott, chairman and CEO of John L. Scott Real Estate. He described sales activity as being at "healthy levels" for the past seven months across all price ranges close to the Seattle-Bellevue job centers and up through the median price range in the surrounding markets. "Buyer confidence has definitely returned," he proclaimed.
This from the same professional that in late 2007 boldly declared that there was no way prices would fall 25%, but at most "they may come off ever so slightly off the peak."
But let's not focus on the past… Read on for my take on this month's local news reports.
Christine Harvey, Seattle Times: Local home prices slide again, but market may be stabilizing
The trend that drew the most attention among market observers was that pending sales have been fairly steady since March at a much higher level than they had been since April 2010's expiration of federal tax credits.
…
Tim Ellis, editor of the real-estate blog Seattlebubble.com, said the change in pending sales isn't impressive because the June 2010 totals were so low.
…
Pending sales can be misleading, however. They have become a less reliable measure of future sales as contracts often don't pan out because of difficulties in financing, or lenders don't agree to short sales, for example.
Thanks to Christine for getting in touch with me and taking the time to understand what's going on as she sits in for Eric on the real estate beat.
Aubrey Cohen, Seattle P-I: Seattle area's housing market heats up
The latest home sale numbers give local real estate professionals confidence that the Seattle area's housing market has bottomed out.

"It feels like we have hit the bottom of the market," Lennox Scott, chairman and chief executive officer of John L. Scott Real Estate, said in a news release accompanying the Northwest Multiple Listing Service's report on June home sales, released Wednesday.
…
Of course, local real estate professionals have mistakenly called the bottom more than once since the market peaked in 2007. And the expiration of a homebuyer tax credit in April 2010 meant the subsequent months were the peak of the post-credit hangover, with particularly low sales. That may make this June look particularly rosy compared with a year earlier.

…there still appears to be a large inventory of distressed homes that are on the market or waiting to enter the market. That could hold back prices for some time.
Great job as usual from Aubrey. I especially appreciate that he pointed out the repeated bottom calls we've seen from various professionals over the last four years. Kudos.
Mike Benbow, Everett Herald: Pending home sales up in county, but prices still low
Pending home sales in Snohomish County rose dramatically in June, prompting at least one industry leader to suggest the region's housing industry may be rebounding.
…
Completed sales in June were down, but only slightly. There were 866 homes sold in the county last month compared to 898 a year ago, a 3.6 percent drop.

While sales appeared to be leveling off, prices continued to fall as foreclosed homes and short sales continued to load the local market.
Mike rightly points out that closed sales are not seeing any sort of surge and prices are still down, but he seems to have forgotten what he reported last month about the reason behind the "dramatic" rise in pending sales year-over-year.
Rolf Boone, Tacoma News Tribune: Monthly data: Pierce County home prices drop again
The South Sound housing market showed some improvement in June as more homes sold than in the month before, but year-over-year sales dropped. And median sale prices dipped yet again.
…
Windermere real estate agent Mark Kitabayashi, who works in Pierce and Thurston counties, said prices are lower in Pierce County because it "still has a tremendous amount of short sales."
…
Part of this is due to the county's slower economy and a jobless rate that has hovered around 10 percent. There also was more subprime borrowing during the housing boom, he said. Still, softer prices have resulted in some competitive pricing for new construction, such as homes in south Pierce County that sell between $150,000 and $220,000, Kitabayashi said.
Nice, Rolf avoids the "pending sales surge" nonsense entirely and focuses on some stats that have more meaning.
Rolf Boone, The Olympian: Is Thurston's housing market 'starting to firm up'?
Washington Realtors Association President Phil Harlan, a real estate agent for Keller Williams, thinks the bottom of the housing market is "starting to firm up."

The Thurston County housing market has shown improvement from May, Harlan said, although it still is a bit delicate and susceptible to outside influences.

One concern he has is that lending, once so lax that all one had to do was "fog a mirror" to get a loan, he said, has swung too far in the opposite direction. Not everyone has a 700 or higher credit score, but that doesn't mean they aren't qualified borrowers. There still are prospective homeowners who can show a stable income and that they can manage money, he said.

"We're leaving some people out of the equation," Harlan said.
I keep hearing this refrain from real estate agents lately, that lending is suddenly "too strict." I'd like to see some specific examples of people that they think should be able to get financing but have been denied, and what exactly the threshold should be. Is it really such a bad thing if we have high standards for people to be able to obtain a loan many times larger than what they earn in an entire year that will take them thirty years to pay off? I would argue that it is not.
(Christine Harvey, Seattle Times, 07.06.2011)
(Aubrey Cohen, Seattle P-I, 07.06.2011)
(Mike Benbow, Everett Herald, 07.07.2011)
(Rolf Boone, Tacoma News Tribune, 07.07.2011)
(Rolf Boone, The Olympian, 07.07.2011)