With the slimy moves, big fees, and generally anti-customer attitude of big banks, I find myself wondering who bothers with them anymore, and why?
Over in the Weekend Open Thread, Pegasus points out a story in yesterday's New York Times: U.S. Is Set to Sue a Dozen Big Banks Over Mortgages
The federal agency that oversees the mortgage giants Fannie Mae and Freddie Mac is set to file suits against more than a dozen big banks, accusing them of misrepresenting the quality of mortgage securities they assembled and sold at the height of the housing bubble, and seeking billions of dollars in compensation.

The Federal Housing Finance Agency suits, which are expected to be filed in the coming days in federal court, are aimed at Bank of America, JPMorgan Chase, Goldman Sachs and Deutsche Bank, among others, according to three individuals briefed on the matter.

The suits stem from subpoenas the finance agency issued to banks a year ago. If the case is not filed Friday, they said, it will come Tuesday, shortly before a deadline expires for the housing agency to file claims.

The suits will argue the banks, which assembled the mortgages and marketed them as securities to investors, failed to perform the due diligence required under securities law and missed evidence that borrowers' incomes were inflated or falsified. When many borrowers were unable to pay their mortgages, the securities backed by the mortgages quickly lost value.

Fannie and Freddie lost more than $30 billion, in part as a result of the deals, losses that were borne mostly by taxpayers.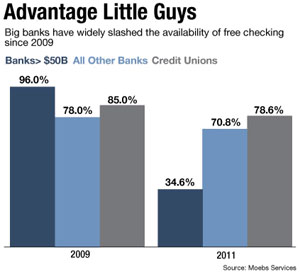 Meanwhile, as seen in the chart at right from American Banker (via Consumerist), big banks are dramatically cutting back on customer-friendly offerings like free checking.
I could go on and on about how evil and anti-consumer the big banks are, and how great credit unions are, but I'm sure you've heard it all before. So I'd like to just put a question out there: Are you still banking with a big bank? If so, why? I seriously would like to know, because I literally have no clue why anyone would give their business to one of these institutions.