A few weeks ago I linked to Urbnlivn's follow-up with Mike Davidson regarding his custom-built home near Discovery Park, mentioned on these pages back in 2009: Q&A with A House By The Park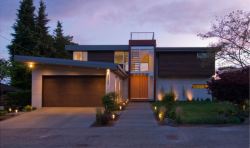 Today Mike posted his own follow-up on his own site that's well worth reading: A Year And A Half After Moving In
Like the site itself, this follow-up post is full of insights and reflections on specific features of his home, and his thoughts after living with all of his decisions for the last year and a half.
Here's an example from the post, where he talks about his heating solution (a topic that came up on this week's poll):
Heating and Cooling

We went with an electric heat pump for the house's main heating and cooling, and then put electric radiant pads only in the master bathroom and one other concrete slab. This strategy has worked out superbly. I don't wish I had "real" whole-house radiant heat at all, and in fact, I think that in most cases, it's overrated. Forced air is able to heat and cool the house a lot more quickly, and it's well-suited for solar retrofitting when that becomes affordable.

Lesson: Don't write off radiant heat, but don't think it's going to make you automatically more comfortable either. An electric heat pump will give you both heating and cooling in one shot. That said, an inexpensive radiant pad in your bathroom will keep your feet toasty in the morning.
Thanks for the follow-up, Mike. Great stuff. If you're thinking of building your own home, I highly recommend that you read Mike's entire site, start to finish.