I spent some time over the last week working with KUOW's Deborah Wang on a story about what's going on right now in Seattle's real estate market that aired yesterday morning: Seattle Home Buyers Beware: It's a Seller's Market Again
If you're looking for evidence of a real estate comeback, just check out any Sunday open house in Ballard, a popular Seattle neighborhood.
…
This particular house just went on the market last week. It's a small, two–bedroom, 1927–era home. It's on a quiet street with neat houses and well–kept lawns. It's close to parks and a popular elementary school.
…
Jed Kliman is the listing agent. He works for Windermere. He says the home has been completely renovated, and all of the fixtures and appliances are brand new.
My conversations with Deborah about the unusually anti-seasonal decline in inventory provide some statistical context for the Ballard anecdote she found.
Here's the listing of the home featured in the story: 8021 29th Ave NW
Note that the listing agent counted the entire 1,180 square foot unfinished (and short—look at how close to the ceiling that broom stands) basement, which doubles the MLS-listed square footage of what is in reality a 1,180 square foot, 2 bedroom, 1 bathroom home.
That said, the home appears to have the nicest possible finishes that you could reasonably put into a house that size. The whole place practically sparkles in the listing photos. Deborah confirmed to me that it looks just as nice in person.
What is a 2-bed, 1-bath, 1,180 square foot home north of 80th street worth today? Over the last six months or so, the most that any similarly-sized home has sold for in that area is $300,000. On the other hand, there are currently only 10 homes for sale in the 98117 zip code priced $400,000 and under, so "entry-level" inventory in that neighborhood is pretty slim.
And Kliman says it's priced right: $389,000. And he expects it to go fast. He says there are a lot of people looking to buy homes in Ballard, and very few houses for sale.

…with so few properties on the market, the competition to buy a home is now fierce. Remember that house in Ballard? Well, agent Jed Kliman set a deadline. Offers had to be in the day after the open house.
So how much do you think this little barely-in-Ballard home will end up selling for?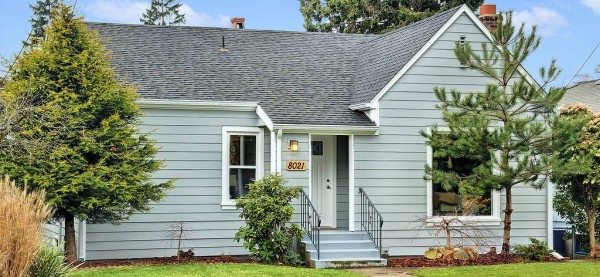 Go ahead and click the photo above and head over to the listing to check out the photos before you make your guess… It's okay, we'll wait…
Okay, ready?
Kliman: "So, we have six offers, and there is a seventh being emailed over in the next 10 minutes or so."
…
Kliman didn't want to disclose too many details to KUOW, but he was willing to tell us that all six buyers were offering the full price of $389,000, or higher. Two people offered cash, two had already done inspections. Kliman and Therrien spent a couple of hours behind closed doors making phone calls to agents. Then, the deal was done.

Owner Joe Therrien was stunned. He says the bidding war took him entirely by surprise. He didn't think anyone would offer full price for his house.

"…this is roughly equivalent to winning the lottery for me."
$400,000-plus for a 2-bedroom, 1-bath house in that location? Seven offers, two all-cash?!? Who are these people? I mean sure, inventory is low, but why would buyers be so desperate that they would pay over $335 per square foot in Loyal Heights? Head over to KUOW's site to listen to the whole tale and see if you can make any sense of it.
I have to say, the corridor bordered by the ship canal on the south, 85th street on the north, Puget Sound on the west, and Lake Washington on the east is pretty much the last place I'd want to be trying to buy a home right now. For whatever reason, that area seems to have turned into the Twilight Zone of Seattle real estate in 2012.