I received the following pair of emails from Seattle Bubble readers in the last few weeks, both describing a similar frustration with today's housing market in Seattle.
They're a little long, but both worth reading. Here's the first one:
My husband and I are hoping to buy a house sometime this summer in the Shoreline area.

We looked and found a house at roughly 147th and Wallingford, west of I-5, in Shoreline, that we both thought was a pretty decent listing. Really close to exactly what we are looking for.

We moved on it. I contacted Redfin and requested a tour, we were all set up for 6:30 today, but it was canceled. The touring agent explained that someone made the seller an offer "they couldn't refuse"—cash—and they would likely be taking this offer.

Is this what is happening when I read that there are more cash buyers? Are these likely real estate investors buying nice (move in condition), family (3 bed, 1.75 bath), forever homes (for us) before the rest of us who don't have $300K CASH lying around?

We are just getting started on our home search. Is this what we can expect for the summer? What is your prediction for the cash buyer snatching nice houses out from under us?
And here's the second:
My wife and I recently began looking for a home. We decided to look in the $375-400k range. That would put us at a manageable monthly payment and we were quickly pre-approved for the full 417k that FHA gives in king county.

We are looking for 3 bedrooms, 1.5 bathrooms, good schools, and a good commute to downtown for around $400k, which I know, is typical for young married couples everywhere.

What I am shocked by is the voracity of this market for that exact thing. I thought I was walking into a buyers market, where the world would bend over backwards to sell me a house. In reality, we cannot get into a house that's near decent, that doesn't already have multiple offers. I was in a nice home last weekend that had been on the market for less than 5 days. I counted 98 cards on the counter. I'm told the $410k asking price ended up "much higher" with the buyer waiving all contingencies.

This morning I found a decent house at $375k and I'm being told that they are only accepting offers until Monday, we need to preinspect, and FHA would probably kill our chances because of the extra fees on the seller.

This house is $25,000 less than my target, needs a ton of interior work, and I'm out of the game before it starts?

So my question is this: What's going on?

Like I said, I'm very new to this. I don't want to panic and rush into a house to find this is just the normal spring uptick, but is this normal? Did I really just step into a shark tank, or is this a typical feeling when you start out looking at homes?

Maybe I'm just being a baby?
I've been hearing similar stories in person from friends who are looking for a home to buy around Seattle this season, and at Redfin, 60% of the offers our agents submitted for buyers in April were up against at least one other competing offer.
So what's going on? A combination of factors are contributing to the mini-feeding-frenzy we're seeing right now:
Prices are back in line with both rents and per capita incomes.
Therefore, many buyers have decided that prices are "low enough" for them to finally buy.
Meanwhile, those same low prices mean fewer home "owners" can afford to sell, since they owe the bank more than their home is worth.
Many home owners that could sell are holding out for an imagined "recovery" in home prices.
It's spring.
Unfortunately, "low prices" is not synonymous with "buyer's market." Until the pent-up supply is released to the market by would-be sellers who finally get the picture that peak pricing isn't coming back even in the best-case "recovery" scenario, it's likely going to be a frustrating time to be buying a home in and around Seattle.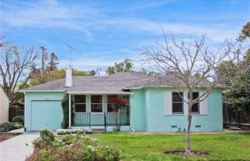 That said, I do have to be thankful that at least things aren't as bad here as they are in the Bay Area, where the 2-bed, 1-bath, 971 square foot post-war Palo Alto shack pictured at right listed in late March for $948,000, received 12 offers, and sold just four weeks later for $1.35 million (hat tip to Redfin for the details). You really have to have the right combination of too many dollars and not enough sense to believe that was a good buy.
Personally, if I were looking for a home right now, I'd probably put the brakes on and pick my search back up in the fall when there will (hopefully) be less competition from other buyers and more supply (also hopefully). Unfortunately, one of the biggest variables in all of this is the human psychology of it all—Shiller's "animal spirits." No matter how many ways you crunch the numbers, you can't account for the emotionally-driven decisions of other participants in the market.