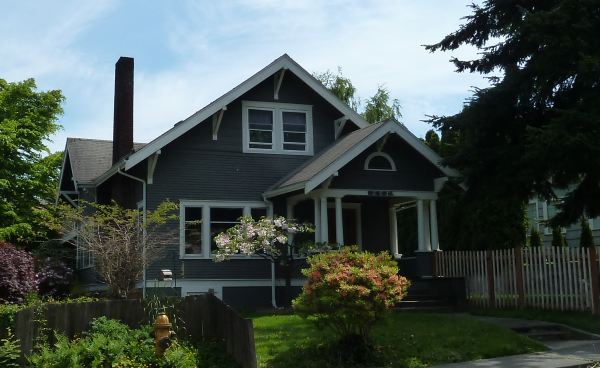 With a full year of home ownership/debtorship under my belt as of yesterday, I thought it would be fun to share a few highlights, stats, and thoughts from the first year.
First up, the financial highlights:
Initial Loan Amount: $179,950
Current Loan Amount: $171,043
Principal Paid: $8,907
Interest Paid: $8,357
Insurance Paid: $596
Property Tax Paid: $3,022
Repairs: $308
Improvements: $636
Appliances: $2,468
Total Spent in Year One: $24,294
That's $2,025 a month, but when you back out the $8,907 we paid down on the mortgage, the monthly "down the drain" expense drops to $1,282—hundreds of dollars less than we would have been paying for a comparable rental.
Most of the money we have spent so far on improvements was on a wooden fence my brother-in-law and I built for the dog around part of the yard (visible at right in the photo above). The only repairs we've had to do so far have been minor things like replacing lights, fixing gutters, and the leak issue I mentioned a couple weeks ago. In the appliances department, we had to buy a clothes washer and dryer when we moved in, and the only other things we've purchased have been an upright freezer I got for $175 off Craigslist and a new, larger water heater.
One expense you might have noticed is not listed above is furniture. That's because we haven't bought any. Many people seem to use buying a home as an excuse to throw out their perfectly good furnishings and blow thousands of dollars on all new sofas, dressers, desks, beds, and tables. We opted to just keep using what we already had.
I never turned off my daily Redfin listing alerts (in fact, I upgraded them to instant), so I've been seeing every home in the area that's come on the market in the last year. So far there hasn't been a home for sale that I wish we would have waited for. In fact, save for one or two total junker bank-owned houses, no homes have hit the market nearby for under $300,000 with as big a lot, a garage, and similar square footage to our home, let alone with a nice, clean, dry, 7-foot or taller basement. There are definitely plenty of nicer / bigger homes than ours in the neighborhood, but lately it's mostly the smaller homes that have been coming on the market.
Since we plan to pay off this home and keep it indefinitely, I don't really care what it's "worth" right now, but for those of you that do care, Zillow's current black-box computer-generated guess of my home's value is $218,700 — about three percent less than we paid a year ago, and $48,000 more than we still owe.
Speaking of paying off my home, at the rate that we've been paying down our 30-year mortgage, we'll have it completely paid off by October 2025, just 14.5 years into the loan, saving over $89,000 in interest. Sweet.
So far the first year has been good to us, and we don't regret having finally made the jump. Of course, that still doesn't mean that it's a great time for everyone to buy a home. Whether or not it's "your time" to buy still depends on your personal finances and stage in life.
What else would you like to know about our first year?