Here's a detail in today's Seattle Times article about Insignia—the first new construction condo project to break ground in five years—that caught my attention:
While condo prices at Insignia haven't been set, Bosa said, "they'll be more than you can buy anything [downtown] for now."
More than anything that's for sale right now? Yikes. One of the biggest criticisms of the current batch of condos has been that the developers are only catering to the luxury market. If you're a middle-class family hoping to live downtown, as far as developers care, you can take a hike.
If you've been in the market for a 2-bedroom new construction condo downtown in the last few years, you've basically had three choices:
Amusingly, Escala—the cheapest option if you want a new condo towntown—was the topic of a recent Zillow blog post, in which Escala's Director of Sales Erik Mehr was quoted:
"If you were going to pick something opulent," Mehr said, "This would be the building."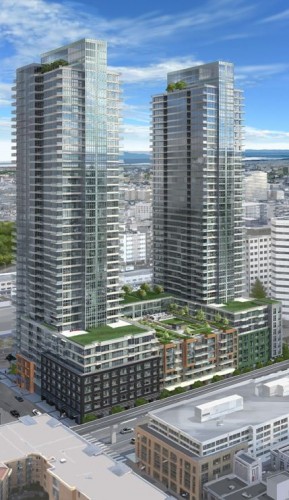 Insignia Condos — Another Downtown Glass & Steel Palace
Apparently the developer of Insignia believes that downtown Seattle's appetite for "opulence" has yet to be satiated.
Even if you drop the new construction requirement and just throw everything into the mix, the cheapest 2-bedroom condo you can find downtown right now is $435,000 plus $807 a month in HOA dues, and the median price of the 50 2-bedroom condos currently for sale between Yesler, Denny, I-5, and the water is $834,975 with median HOA dues of $918.
Working backwards using my affordability calculator, to "afford" the cheapest 2-bedroom condo downtown a family would have to have $87,000 available for a down payment and a bare minimum yearly income of $116,000. To "afford" the median they'd need $167,000 in the bank and at least a yearly income of $195,000.
[Update: The affordability numbers above originally did not include the cost of HOA dues. The post has been updated to reflect the inclusion of monthly HOA dues.]
According to recent Census data Seattle's median household income is $60,665.
Plus [Insignia developer Nat] Bosa, 67, is bullish on Seattle and its prospects for growth. He spent Monday walking around downtown.

"I've got to tell you, that has all of a sudden become a very livable city," he said. "It's becoming more and more like San Francisco. … It's maturing."
It appears that "very livable" and "maturing" are code words for places that are for rich people only.