With real estate's "spring buying season" basically in the rear-view mirror, one would expect that the housing inventory shortage we've been seeing so far in 2012 might subside.
Unfortunately, that does not yet appear to be the case. Both in King County as a whole and Seattle specifically, weekly inventory data from Redfin shows a continued decline in selection.
Here's how May 2012 looks compared to each of the previous twelve years, according to NWMLS data: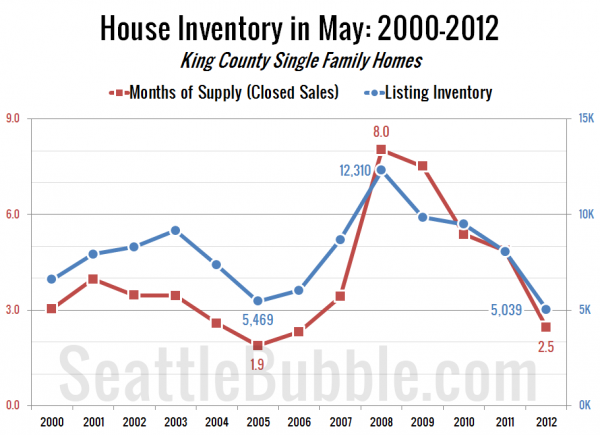 While inventory is at an all-time low, the picture isn't quite as grim for buyers as it was at the peak of the bubble-buying frenzy in 2005, since there aren't as many sales now as there were then. I attribute this to the dramatically different mindsets of the 2005 and the 2012 buyer.
2005: We have to buy a home right now! Something! Anything! Homes are an amazing investment, and every month we wait we're that much closer to being priced out forever! Let's forget the inspection, throw down an escalation clause, and pay whatever it takes!
2012: We would like to buy a home now, but we're going to be sure we find the right home in the right neighborhood at the right price. Homes obviously aren't a good investment, so we can and should be choosy about what we buy. If we find something really nice we'll do what we can to get it, but we're not in an incredible rush.
I suspect that the calmer mindset of today's buyer will prevent any crazy run-ups in home prices in the near to mid-term future, despite today's extreme lack of selection on the market.
Full disclosure: The Tim is employed by Redfin.