When inventory completely failed to experience the usual new year bump in January, and listings continued to decline through February, March, April, and May, I had hoped that once the "spring buying season" wore off that we might start to see inventory increase a little in the second half of the year before the usual fall drop off.
Unfortunately, according to Redfin's region page for King County, that's not happening: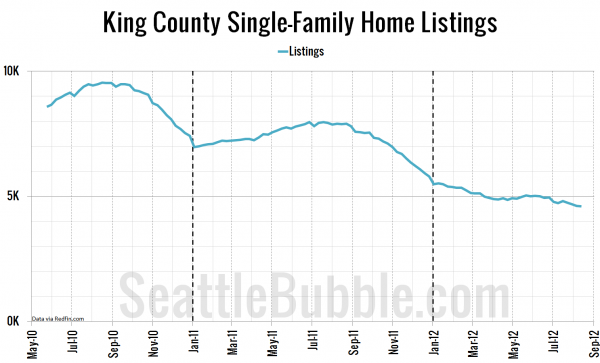 The number of homes on the market continues to sink to new lows almost daily. I've gotten almost as many emails from frustrated buyers this year as I did in 2006 and 2007. Back then their complaints were of course that there were no homes on the market that they could afford. Now, there simply aren't any homes on the market worth buying.
Since selection does not appear to be improving, it is highly likely that the rest of this year will only be even more frustrating for buyers, which leads me to ask: Is it time to give up on 2012? If you're trying to buy a home out there today are you ready to throw in the towel and hope for better selection in 2013?
Full disclosure: The Tim is employed by Redfin.