Last summer we ran a poll that asked the question "When will interest rates first rise back above 6%?"
Here are the results of that poll:

When will interest rates first rise back above 6%?
Before 2012 (6%, 7 Votes)
1st Half of 2012 (13%, 16 Votes)
2nd Half of 2012 (18%, 22 Votes)
2013 (20%, 25 Votes)
2014 or 2015 (27%, 34 Votes)
2016 to 2021 (10%, 13 Votes)
Later than 2021 (6%, 8 Votes)
Total Voters: 125
With the rate for a 30-year fixed currently averaging 3.69%, it's rather startling that 36% of you believed that interest rates would rise above six percent before the end of this year. That's a pretty large portion of people with expectations that differ fairly dramatically from reality.
Here's another look at rates going all the way back to 1971, to put today's rates in context: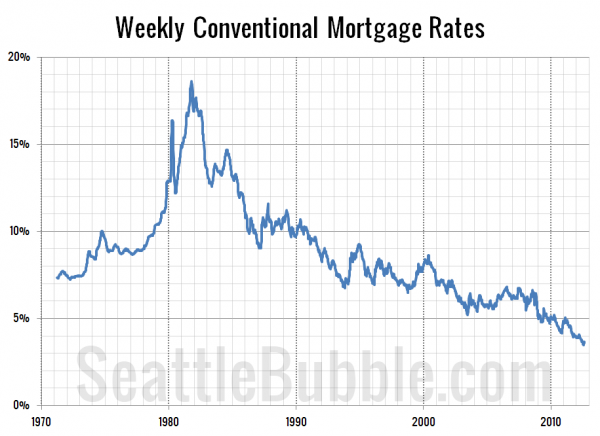 I certainly agree that eventually rates will climb back up above six percent, but pretty much everybody has been using the "rates are going to climb any day now" line for the last three years (at least)—all while rates have continued to fall. At this point I wouldn't be surprised if rates don't go above six percent for at least another four years.
I'd love to hear from some of you who chose one of the first three options in the summer 2011 rates poll. What were you basing your expectation on, and have those expectations changed?