It's time once again for the monthly reporting roundup, where you can read my wry commentary about the news instead of subjecting yourself to boring rehashes of the NWMLS press release (or in addition to, if that's what floats your boat).
To kick things off, here's an excerpt from the NWMLS press release:
September housing statistics around Washington indicate recovery is continuing, strengthening sellers' positions

"The biggest story this year is that the market has flipped," proclaimed J. Lennox Scott, chairman and CEO of John L. Scott Real Estate. He attributes the shift to a seller's market in most areas and prices to a combination of factors, including historically low interest rates, lower adjusted prices, the shortage of inventory, an elevated number of investors, and the return of local home buyers.

Northwest MLS directors OB Jacobi and Joe Spencer are similarly encouraged by the latest numbers, mentioning steady momentum, rising consumer confidence, low inventory, a pickup of activity in new construction, and improving prospects for homeowners who are underwater.
…
Another MLS director, Joe Spencer, said the low inventory and heightened buyer activity are resulting in an imbalance of supply and demand, but he believes that "bodes well as we move into the fall season, which typically ushers in an increase in buyer activity."

Buyers and sellers are "clearly more confident," reported Spencer, the area director for Keller Williams. These consumers "are looking to take advantage of the market rebound in what appears to be a continued slow and sustainable recovery."
I'm not sure how Mr. Spencer defines of an "increase in buyer activity," but sales typically head on a steady pace downward every month after June or July: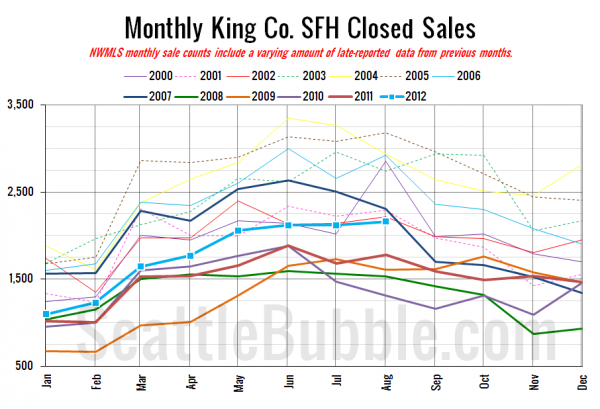 If Joe Spencer is expecting some sort of fall spike, I think he's going to be disappointed…
Read on for my take on this month's local news reports.
Eric Pryne, Seattle Times: Sales hot in August for homes in King County
It all sounds good if you're selling, or thinking about it.

But can this recovery last?

Two analysts say they foresee no imminent turnaround. But they won't rule it out.
…
Glenn Crellin, associate director of research at the University of Washington's Runstad Center for Real Estate Studies, said the economy and real-estate market both could suffer if the federal government doesn't find a way around the so-called "fiscal cliff" of automatic tax increases and spending cuts at the end of the year.

But for now, he added, the local market looks healthy. Rising prices are giving more formerly "underwater" homeowners — who once owed lenders more than their homes were worth — equity in their houses again, he said.
…
Another reason prices are rising: The mix of houses that are selling has changed.

Last month bank-repossessed houses, which usually sold at a steep discount, made up just 6 percent of all King County sales, down from 17 percent in August 2011, according to online brokerage Redfin.

It hasn't been this low in more than three years.
I was the other analyst quoted in Eric's article. The steep drop in sales of bank-owned homes is a topic we have covered here in recent months.
Aubrey Cohen, Seattle P-I: Seattle-area home shoppers find slim pickings
King County has "such a short supply that it invites further price increases," Crellin said. "The Realtors are right. They need inventory."

So why aren't more people listing their homes for sale, given the high demand?

Jacobi, Kelman and Crellin all pointed to owners who still wouldn't be able to ask what they paid for their homes at or near the height of the market.

"They've sort of resigned themselves to staying put for awhile," Crellin said.
Priced in forever!
Kurt Batdorf, Everett Herald: County housing market shows improvement for sellers
Closed sales, reflecting several months of strong pending sales, reached the highest volume so far in 2012. Northwest MLS said its brokers tallied 6,612 closings last month, continuing a streak of four months of 6,000 or more completed transactions.

In Snohomish County, MLS brokers had 1,057 closed sales of single-family homes and condos in August, up 15.4 percent. The median sales price rose 6 percent, from $232,000 to $246,000.
…
"Inventory levels are incredibly low, but our hope is that many homeowners who were underwater can now afford to sell because of the continued appreciation of home prices," said Jacobi, president of Windermere Real Estate Co.

"In housing markets, slow and steady recoveries are good," said MLS director Frank Wilson, the branch managing broker at John L. Scott's Poulsbo office. "A market that runs too high or too fast leads to a quick decline in short order."

He said he expects good momentum to continue into the fall.
Hah, I love that now the real estate agents are concerned about "a market that runs too high or too fast." Where were these guys in 2005?
Kathleen Cooper, Tacoma News Tribune: August's home price rise biggest of 2012 for Pierce County, MLS says
Sale prices of homes and condos in Pierce County had the highest year-over year increase of 2012 last month, data released Wednesday show.

The combined median sale price of homes and condos in August was $199,950, a 7 percent increase over the price at the same time a year ago, according to the Northwest Multiple Listing Service.
…
Other good signs: Closed sales in Pierce County increased by 3 percent compared with August 2011, while about 28 percent fewer homes were for sale.
I'm not sure that I would describe the dramatic decrease in inventory as a "good sign," but whatever.
Rolf Boone, The Olympian: Thurston home sales top 300 units for second time this year
The Thurston County housing market had its second best month of the year in August, with home sales rising to more than 300 units, nearly equaling a mark set in June, according to Northwest Multiple Listing Service data released this week.

Sales rose to 306 units last month, a 27.5 percent increase over the 240 units that sold in the same period last year, the combined single-family residence and condominium data show. In June, 307 units sold in the county, the data show.
Not much meat in this one. It seems that the full article from The Olympian must not be online.
(Eric Pryne, Seattle Times, 09.05.2012)
(Aubrey Cohen, Seattle P-I, 09.05.2012)
(Kurt Batdorf, Everett Herald, 09.05.2012)
(Kathleen Cooper, Tacoma News Tribune, 09.06.2012)
(Rolf Boone, The Olympian, 09.06.2012)