Let's take an updated look at how King County's sales are shifting between the different regions around the county, since geographic shifts can and do affect the median price.
In order to explore this concept, we break King County down into three regions, based on the NWMLS-defined "areas":
low end: South County (areas 100-130 & 300-360)
mid range: Seattle / North County (areas 140, 380-390, & 700-800)
high end: Eastside (areas 500-600)
Here's where each region's median prices came in as of September data:
low end: $192,500—$355,000
mid range: $249,950—$694,500
high end: $375,250—$1,012,000
First up, let's have a look at each region's (approximate) median price (actually the median of the medians for each area within the region).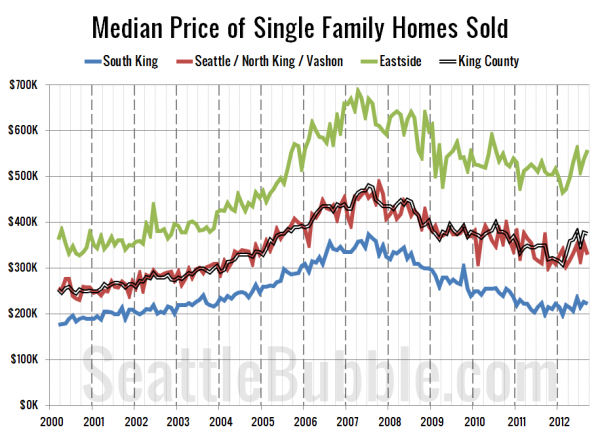 After a strong spring, all three regions have been more or less flat for the last three months. Up a bit, back down a bit, or down a bit then back up a bit.
Next up, the percentage of each month's closed sales that took place in each of the three regions. The dotted line is a four-month rolling average.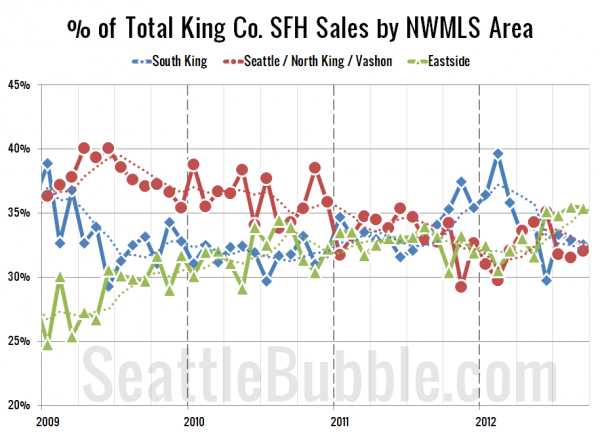 Sales in the Eastside have had a strong showing recently, moving from 30.6% in February to 35.4% as of September, while sales in South King have taken a hit. This is no doubt one part of why the county-wide median price has climbed so much this year.
Lastly, here's an updated look at this same set of data all the way back through 2000: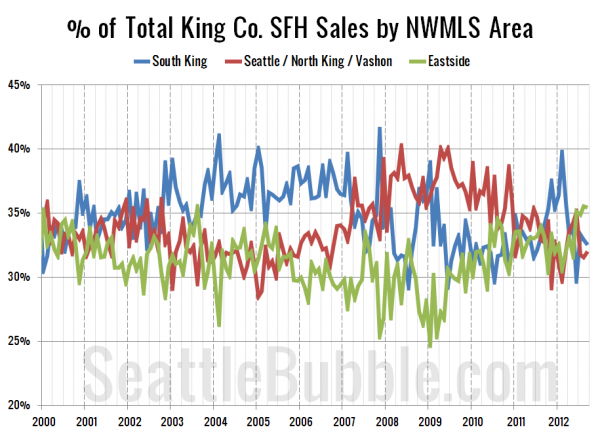 Sales in the Eastside currently make up a larger portion of overall sales than they have at any point in the last 12 years, save for one month in late 2003. My guess is that this is because home prices did not fall as much on the Eastside, and buyers typically made larger down payments, so that just happens to be where people can currently afford to sell their homes.