Let's say you own a home in the Seattle area that sports an unfinished basement. Do you:
Leave it unfinished and use it as storage?
Partially finish it and use it as a workshop?
Finish it and use it as a rec room?
Fully finish it with bedrooms and a bathroom?
Something else?
I'm curious to hear your thoughts and opinions on what's the best use for a basement? Let's assume that the basement has no history of major leaks and has at least 7-foot tall ceilings.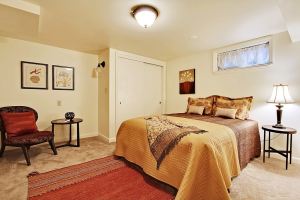 In my opinion the most important factor in the decision is whether you can reasonably take steps to assure that everything stays dry. A moldy finished basement would be many times worse than an unfinished basement.
I would also consider light and safety access. I've seen finished basements with literally no windows at all, with zero natural light and only one escape route. Finished basements with those tiny short windows way up near the ceiling (like in the photo at right) aren't much better.
So what about you? What would you do with your basement, assuming you had the time and money to do it right?