February market stats were published by the NWMLS this morning. Here's a snippet from their press release: Western Washington housing indicators aligned "for spring market to remember".
Real estate brokers around Washington state agree today's market is far different than two years ago, with one industry veteran summing it up by saying key indicators "are in perfect alignment for a spring market to remember."
…
"In my 37 years working in the real estate industry, I have never seen inventory this low," remarked Diedre Haines, regional managing broker for Coldwell Bank Bain-Snohomish County and a member of the Northwest MLS board of directors.
…
Compounding the shortage is the fact that about one-fourth of the MLS inventory is classified as "distressed," meaning they are short sales or bank-owned. Such homes are sometimes in need of significant repairs or have prolonged transaction times, which may make them less desirable.

"The market is struggling to provide enough inventory for anxious buyers seeking to take advantage of low interest rates," reported Dick Beeson, principal managing broker of RE/MAX Professionals in Tacoma. Also, he lamented, considering 25 percent of the selection is distressed, "It leaves some buyers with tough choices."
Like a broken record, low inventory is still the big story in today's market. Every time you think it can't get any lower, somehow it does.
All righty, on with our usual monthly stats.
Here's your King County SFH summary, with the arrows to show whether the year-over-year direction of each indicator is favorable or unfavorable news for buyers and sellers (green = favorable, red = unfavorable):
| February 2013 | Number | MOM | YOY | Buyers | Sellers |
| --- | --- | --- | --- | --- | --- |
| Active Listings | 2,947 | -0.9% | -43.1% | | |
| Closed Sales | 1,307 | -4.1% | +6.3% | | |
| SAAS (?) | 1.41 | +33.9% | -4.0% | | |
| Pending Sales | 2,469 | +17.1% | +1.6% | | |
| Months of Supply | 1.19 | -15.4% | -44.0% | | |
| Median Price* | $365,000 | +4.3% | +18.5% | | |
Feel free to download the updated Seattle Bubble Spreadsheet (Excel 2003 format), but keep in mind the caution above.
For the second month in a row, we're looking at the lowest months of supply has ever been as far back as my data goes (January 2000). Remember thoug that the NWMLS changed the definition of "active listing" in July 2008, so months of supply before and after that point aren't really directly comparable. But still… 1.2 months of supply. Crazy.
Here's your closed sales yearly comparison chart: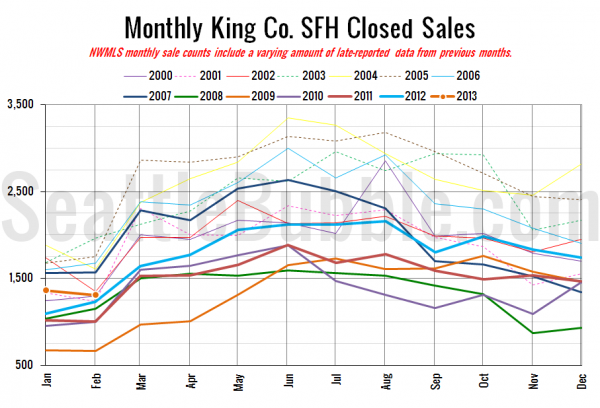 Not much increase from a year ago, but that's because there just aren't many homes to buy.
Here's the graph of inventory with each year overlaid on the same chart.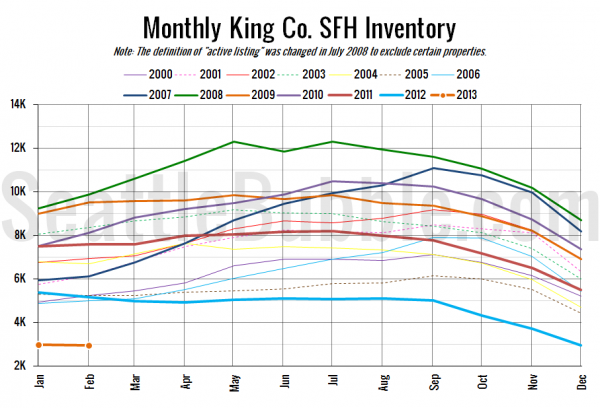 Another month-to-month decrease. Sigh.
Here's the supply/demand YOY graph. In place of the now-unreliable measure of pending sales, the "demand" in this chart is represented by closed sales, which have had a consistent definition throughout the decade.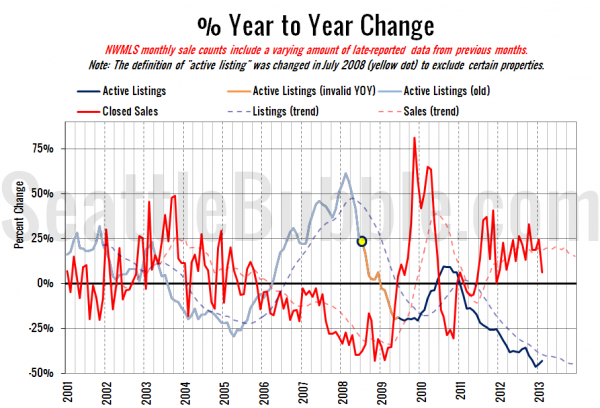 Same story as ever, supply down, demand up.
Here's the median home price YOY change graph:
Slight boost from last month, but we're still a relatively non-distressed market to a heavily distressed market from a year ago.
And lastly, here is the chart comparing King County SFH prices each month for every year back to 1994.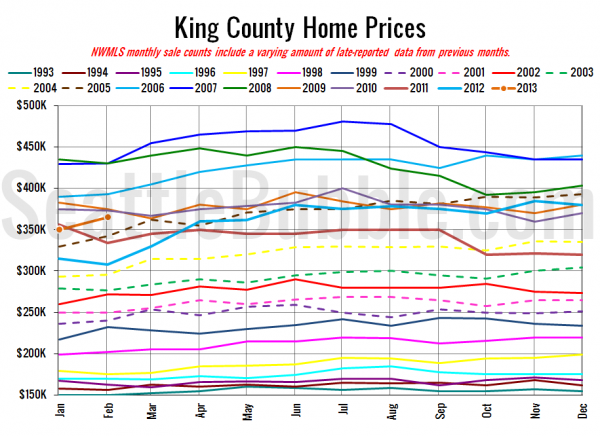 February 2013: $365,000
March 2005: $362,000
Check back tomorrow for the full reporting roundup.