Full disclosure: The Tim is employed by Redfin.
Redfin released February housing market data last week, so let's take a look at the rate at which new listings are going under contract in two weeks or less in the Seattle area, compared to San Francisco and the national rate:
I was concerned when this number shot up to over 36% back in October. 46% is just crazy. We're just two months behind San Francisco.
Here's a plot of this metric next to total inventory for the Seattle area: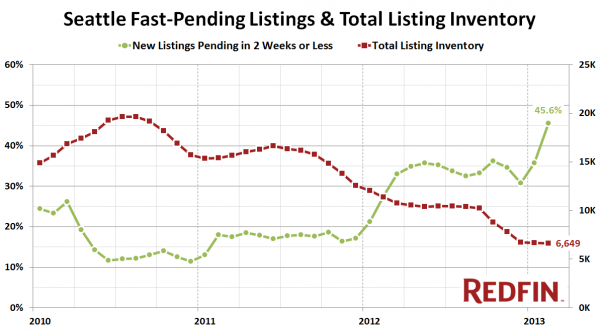 In November I said:
If inventory doesn't pick up early next year I could easily see the percentage of new listings that go pendong in two weeks or less moving up over 50% in Seattle, which would definitely not be a fun market for buyers.
Unfortunately it is looking more and more likely that I am going to be right.