For years, the gold standard in online buy vs. rent calculators has been the one created and hosted by the New York Times. This week, they released a brand new, updated and enhanced version: Is It Better to Rent or Buy?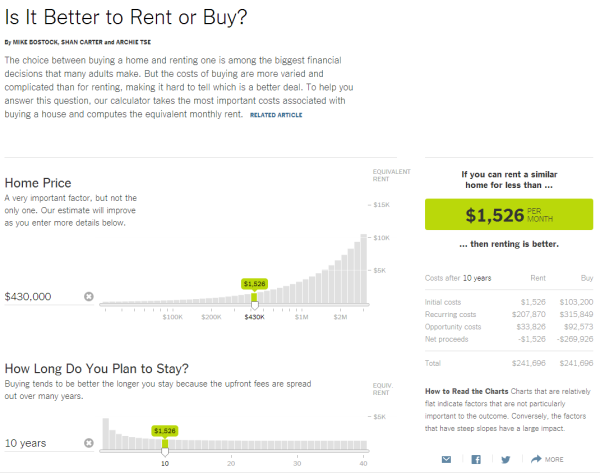 The new version lays out all of the variables in a clean and simple vertical layout. As with their old calculator (which you can still use if you prefer it), they offer sliders for a wide variety of costs associated with both renting and buying.
The thing I really like about this is that it highlights many of the home buying and ongoing ownership costs that cliché "you're just wasting money if you rent" marketing from home salesmen conveniently overlooks.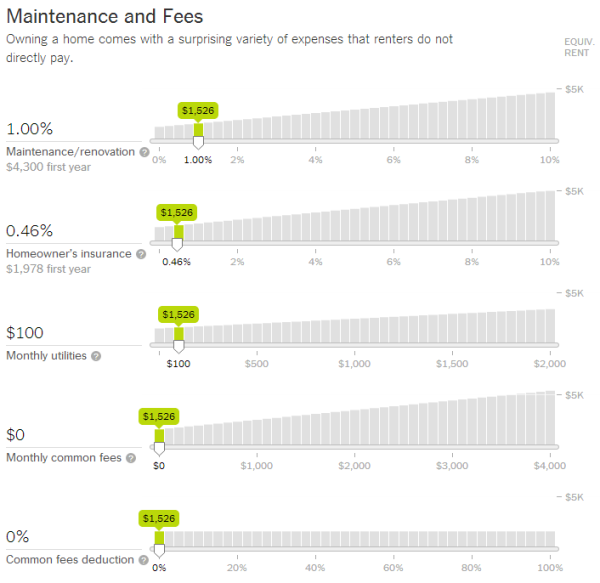 When I put in the numbers for my 2011 home purchase, the calculator suggested that even if home values don't appreciate at all and I only stay in my home for 10 years (I plan to own it for good) I'd need to pay no more than $1,128 a month in rent to make renting the better financial choice. The 2-bedroom home next door to mine—less than half the size of my house—is currently renting for over $1,300.
Plugging in a similar scenario for today's median King County single family home price of $430,000 and a 4.25% rate on a 30-year mortgage gets you a monthly rent break-even point of $2,193. I haven't tried renting anything in King County lately, but a Craigslist search seems to show quite a few homes for rent for less than $2,200. From what I can tell, the question of whether buying or renting is the better financial choice in the Seattle area is certainly a lot less clear today than it was a few years ago.