A couple weeks ago our weekly poll asked: Will you use a traditional real estate agent for your next home purchase?
This poll was actually a re-run from almost seven years ago when we asked the same question.
Here's how the results of the two polls compare: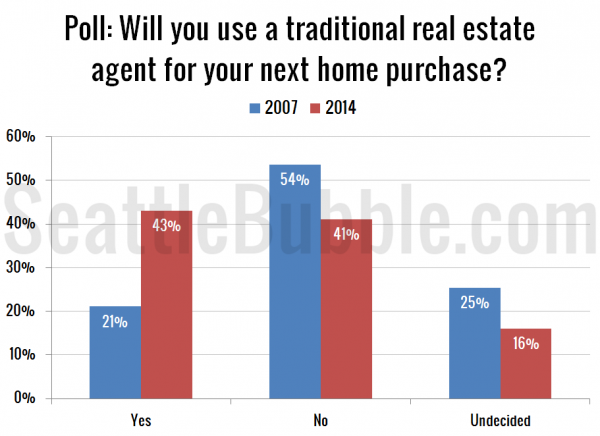 The sample size on both polls is really just a small fraction of the 25,000 visitors this site gets in a month, but these results were still somewhat surprising to me. Are home buyers really more than twice as likely to use a traditional agent now than they were in 2007?
With the increasing number of alternative brokerages popping up around Seattle, I would have expected the opposite results.
We used the services of WaLaw Realty to buy our home in 2011, and in a heartbeat I'd use just about any of the brokerages I highlighted in last month's series to buy or sell a home before I would pay a full commission to a traditional agent.
Are traditional agents really getting more popular, or was this survey just a fluke?