Full disclosure: Quill Realty is a Seattle Bubble advertiser, and Tim worked with Craig at his previous company WaLaw (also an advertiser) to buy his home in 2011.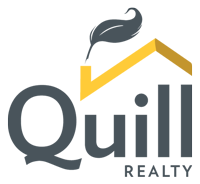 Last week local brokerage Quill Realty (spotlighted in this 2014 post) announced that they will be withdrawing from the NWMLS completely in order to "offer broker services to sellers who want to avoid the cost of a cooperating broker."
As longtime readers of this site know, I have something of a love-hate relationship with the NWMLS. I love how open they are with much of their data, and I definitely love that listings are kept current in their database, but I hate many of their backward and overbearing rules, and I'm not a fan of some of their data processing methods.
That said, being listed in the local MLS has been the only way to reliably sell your home quickly and for the best price, even back when the MLS was literally a 3-ring binder with listing printouts.
So how does Craig (owner & managing broker of Quill) hope to compete post-MLS? Here's an excerpt from his press release:
This will allow Quill to sell homes while charging owners only its own, single broker commission of 1%. So home owners will soon be able to sell their houses using the services of a fully licensed REALTOR™ for far less than the 3% to 6% of the MLS.
…
Quill anticipates being able to put its listings on numerous, highly trafficked web sites, such as Zillow, Redfin, and Realtor.com, exactly those places where buyers are searching today. All without using the NWMLS and without paying the commission of a cooperating broker who represents the buyer.
Will the appeal of paying just one percent of the sale price to a real estate broker be enough to lure sellers to take the plunge? It's not the first time this kind of thing has been attempted. In fact, it is very similar to the model Redfin began with ten years ago (although Redfin was focused on buyers and Quill is targeting sellers). Over the years, Redfin's fees have gone up and their service has become closer to what's provided a typical agent.
The biggest question I had for Craig was whether buyers who are already working with an agent would be steered away from Quill listings since Quill will not be offering to pay the typical three percent to the buyer's agent. Here's what Craig had to say about that:
First and foremost, Quill will be relying on the legal and ethical duties of real estate brokers. This conduct you describe may be illegal, and it is grossly unethical. So I believe this won't happen as often as you are assuming.
…
Buyers of Quill listings will know as much about the listing as their agent. They won't need their agent to tour the home, and they won't need their agent to make an offer. At the end of the day, I like how those disincentives stack up. Those unethical brokers who might be inclined to steer clients away from Quill-listed homes will soon realize that they are making a poor decision. They will soon realize that it is in their interests to assist their clients in buying the homes their clients want to buy, whether listed with Quill or any other real estate firm.
Craig also goes into more detail on his plans on the Quill blog and in a recent Rain City Guide post.
Quill's new model is similar to what Surefield launched last November (Surefield is also a Seattle Bubble advertiser, and is a Quill partner). The differences between Surefield's model and Quill's new model are that Surefield is still an NWMLS member, they charge slightly more at 1.5%, they offer a $2,000 flat commission to buyers' agents, and their listings include their signature 3D virtual tour on their website.
The current listings-scarce market definitely seems like an ideal time to try something like this. Buyers are desperate for listings, and if they find something they want, they're most likely going to do whatever it takes to see it, whether it's listed on the MLS or not.
I'm definitely a fan of moves that will save home buyers and sellers money and bring further pro-consumer change to the real estate industry. I'm not yet convinced that consumers are ready for something this dramatic, and I still think Craig has an uphill battle ahead of him when it comes to dealing with the entrenched interests of buyers' agents, but I do hope he succeeds.